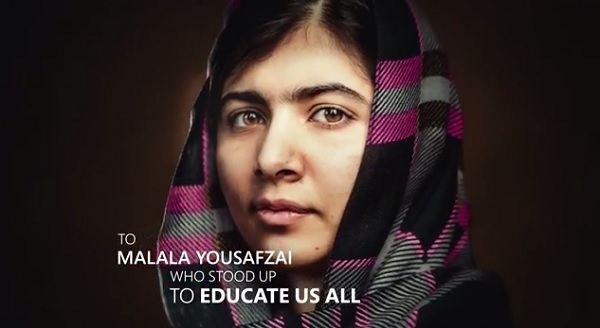 By Zoya Anwer
In order to bid adieu to 2013 and welcome the beginning of 2014, Microsoft launched a campaign focused on promoting the most searched women via an advertisement on its search engine, Bing.
Having the very motivating song, "Brave" by Sara Bareilles which also represents Gay rights, the video has the portraits of many women who were well searched by the users in the foregone year of 2013.
The video starts off with our very own Malala Yusufzai, her strong words echoing in the speech she made. The girl had survived the attack from the Taliban for promoting education for females. This incident transformed her into a global hero and she got nominated for the Nobel Prize as well.
Many political personas like German Chancellor, Angela Merkel and the former Prime Minister of England, Iron Lady, Margaret Thatcher, were included too, the latter that would have been searched a lot because of her death earlier in April.
Gabrielle Giffords, an American politician who also survived an assassination attempt was featured as well as was Janet Yellen, first woman ever to be the Chair of Federal Board of Governors.
The video also showed ordinary women whose courage has made them extra ordinary like Antoinette Tuff, the lady whose heroic negotiations with a shooter saved many lives and Adrianne Haslet-Davis, a dancer who lost her foot in the Boston marathon blast.
Edith Windsor and Diana Nyad, LGBT activists were also featured for their commitment to the cause last year.
The objective of the campaign was to show women who are strong and who have made a difference some way or the other and well the 60 second footage does give a sense of pride and goosebumps as you see the women making statements regarding their courageous actions.
The response had a lot of negative comments too, rants mostly by men who were disappointed that Microsoft had developed video highlighting women and not men, (these men ignoring the long lists produced world wide that solely cater to the men).
The video ends with the message, "Honsetly We Salute You. Be Brave in 2014". The campaign is the ultimate shout out to all the women out there because each one can make a difference and Microsoft has depicted this in a very positive light, a truly admirable effort indeed.
[iframe id="https://www.youtube.com/embed/ZyB7bzYRoqY"]