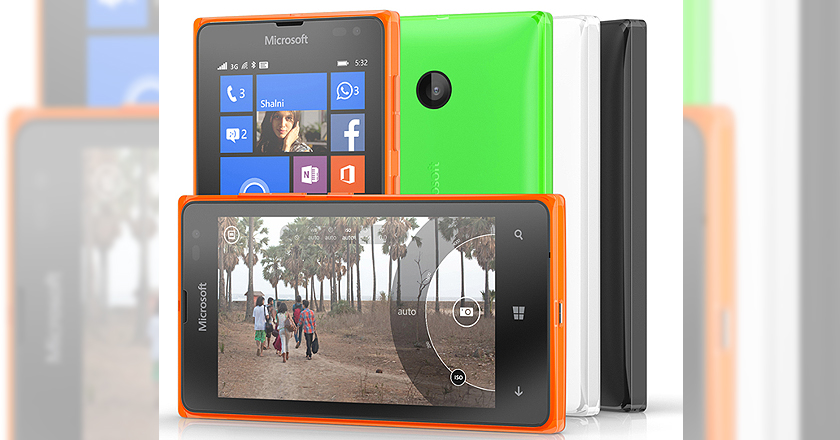 Microsoft announced its most pocket-friendly smart phones in the Lumia range – Lumia 435 costing $80 andLumia 532 costing $90. The phones are expected to be released in February 2015 in the Middle East, Africa, Asia-Pacific, Europe, India and other key markets.
The budget smart phones have 4-inch touch screens, 800x 400 pixel display, 8GB memory, Windows 8.1, 1GB RAM, 3G connection and single-and-dual sim variants. Apart from the windows 8 operating system, both models have the Lumia Denim update pre-installed.
The smart phones will be released in four exciting colours :bright green, bright orange, white and black. The cases are interchangeable between the two Lumia models.
The difference between the two budget smart phones lies in the  of camera and processor. The Lumia 532 has quad core and 5-mega pixel fixed focus camera whereas the  Lumia 435 has 435 dual-cores and 2 mega-pixel fixed focus shooter camera.
Microsoft has been stepping up its feature phones into budget internet devices by releasing Nokia 215 at a price of $29.
This is what Harlow; corporate vice president for Phones at Microsoft had to say about these two budget smart phones:
"With the Lumia 435 and Lumia 532, we've realized our goal of creating the most affordable Lumia devices to date, opening up the opportunity to reach those people who are buying a Smartphone for the very first time. Lumia 435 and Lumia 532 deliver competitive hardware alongside innovative software that will continue to receive the very latest updates and enhancements, keeping users up-to-date with the best new features."
Other cell phone brands are not far behind. Samsung has also launched budget smart phones with the aim of making them fit within the purchasing power of the consumer. For example, it launched the Samsung Galaxy Star two years ago and is currently selling for $61.
With iOS and Android penetrating deeper each day into the consumer market, Microsoft is trying to catch-up with them by culminating the Smartphone features at lower price points. Other Small brands are also  potential competition for Microsoft. A good example would be Q-mobile in Pakistan which is constantly increasing the ratio of the number of features per price point and is reinforcing them with glamorous advertisement campaigns featuring stars like Kareena Kapoor and Arjun Kapoor.