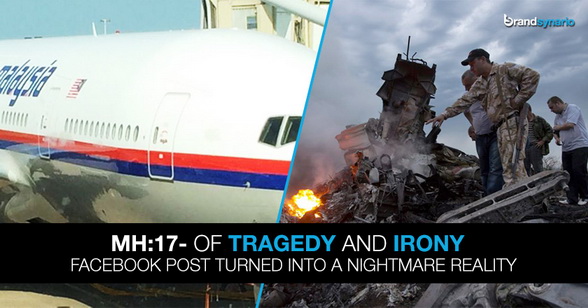 By Arub Shaikh
After the horrific disappearance of flight MH370 flying from Kuala Lumpur to Beijing on March 8th, 2014, another tragedy took place on Thursday, July 17th.
Maybe, the fear of Malaysian Airlines should be added to the dictionary under a psychoanalytic name.
Flight MH17, a Boeing aircraft 777-200, flying from Amsterdam to Kuala Lumpur was hit by a sophisticated surface-to-air missile while flying at 33,000 ft at 490 knots over Ukrainian territory near Donetsk held by Pro-Russian rebels.
According to sources, 298 people including 154 Dutch nationals, 45 Malaysians, 27 Australians, 12 Indonesians and 9 Britons were on board while 41 nationalities are still unconfirmed. 
Cor Pan, from Volendam, North Holland posted a picture of the airplane a few moments before he boarded the plane with the caption "If it disappears, this is what it looks like."
 Ironically, this joke turned into tragedy after the ill-fated aircraft was hit and brought down by rebels. The caption was a reference to flight MH370 that went missing earlier this year. 
Friends of this Dutch national played along with the joke and sent him good wishes for his trip.
Little did they know that they would soon be struck by the irony of life in a manner so harsh. After hearing the news, Cor Pan's picture was bombarded with comments by his friends who were hoping it wasn't the same airline that boarded his friend a few hours back.
One can only imagine what they must've gone through after hearing the terrible news.
Russian President Vladimir Putin has blamed Ukraine for the attack.  Ukrainian authorities, however, are blaming the attack on Russian rebels. "This tragedy would not have happened if there were peace on this land, if the military actions had not been renewed in south-east Ukraine. And, certainly, the state over whose territory this occurred bears responsibility for this awful tragedy," Putin said.
Apparently, the missile-fire was intended on destroying a rebel aircraft but it turned out to be a passenger plane. Recorded conversations between Russian fighters have gone viral heightening the controversy of the incident.
A Ukrainian newspaper published what it claims to be unidentified recordings of phone conversations between Russian intelligence officers and separatist commanders.
Militia commander Igor Strelkov was witnessed bragging on Twitter – "We warned you. Do not fly in our sky." but deleted the tweet when the full horror of the disaster was laid out.
Authorities are claiming to have warned airlines twice about the risk of flying over an area where two Ukrainian military aircrafts had already been shot down this week.
Ukrainian authorities had barred aircraft from ground level to 32,000 feet but the attacked plane was cruising at 33,000 feet, within range of ground-to-air missiles, when it was hit. 
Although airlines had been warned about not taking the mentioned route, some pilots still chose to do so. This is because the airway is a shortcut and it saves an immense amount of fuel. A couple of dollars saved at the exchange of 298 lives? Or will the concerned personnel term this as collateral damage? 
This incident will certainly damage the business for the Malaysian Airlines if that wasn't already done in March after it was brought under the global spotlight for bad publicity.
Mr Kaminski-Morrow, air transport editor of Flightglobal magazine stated, 'It's really quite incredible that it should be Malaysian Airlines involved in this, after what happened earlier in the year.'
'This is not a small airline on a faraway route. This was a major airline flying from a European destination to a capital in the Far East. There must be serious concerns about how the airline can recover from this,' he continued.
The airline has confirmed that it will be avoiding its usual route over eastern Ukraine, with a host of other commercial airlines also altering their paths.