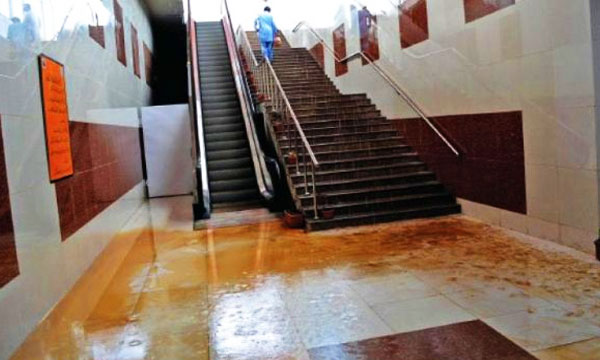 Who knew that the fate of the most hyped metro bus stations would end up getting washed! That's right; the brain child of the Punjab Government, Metro Bus Project could not withstand the heavy monsoon showers on Tuesday.
What more could have been expected from the non-water proof stations that are currently weather beaten by the monsoon rain. The worst affected bus stations include Peshawar Mor, Centaurus, 7th Avenue, Kutchery and Shaheed-i-Milat stations.
The dripping ceilings and flooded staircases were the result of construction flaws and the hasty execution of the project.
Read also: Islamabad-Rawalpindi Metro Bus Service Begins Today
MNA Sheikh Rashid Ahmed, blamed the impatience of the Punjab government for the current situation stating, "The rains exposed the poor performance of the Punjab government which started running the service before the work had been completed."
Moreover, he said that the water could be seen seeping into the concrete, on the elevated road from Saddar to Faizabad and people are afraid that it could cause a big disaster.
"The metro bus project reeks of corruption. The first spell of monsoon rains has exposed the poor quality of construction material used," he said.
With all the water gushing into the stations, the administration was forced to shut down the elevators and escalators. However, buses continued to run.
Have a look at the video coverage (courtesy of Dawn News) and witness the damage the caused to this brand new project worth millions of rupees:

Rawalpindi-Islamabad metro bus project not… by dawn-news