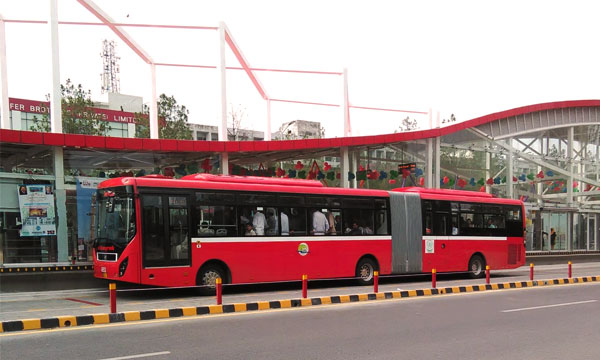 In the wake of a collision between a car and bus from Ravi Bridge, the Metro Bus service was temporarily ceased this Monday. Onlookers witnessed a brawl breakout between the bus driver and the car owner after the collision occurred where the Metro Bus lane and the rest of the traffic converge.
Syed Uzair Shah, Director for Punjab Mass Transit Authority (PTMA) elaborated on the event details. He added that the minor collision had left the bus with some grooves whereas the car owner, an army officer, has been escorted to the market to help replace his side view mirror. The passengers of the bus, however, were shifted to another bus after some time.
Shah denies the notion of service suspension along the entire route and maintains that it was temporarily stopped on a much smaller section.
Lahore Orange Line Metro Train to Revolutionize Transport Culture in Pakistan
The Chief Traffic Officer's Public Relations Officer, Ali Nawaz commented that when an accident occurs around peak hours, then usually it takes the traffic wardens almost fifteen minutes to resume the traffic flow as before.