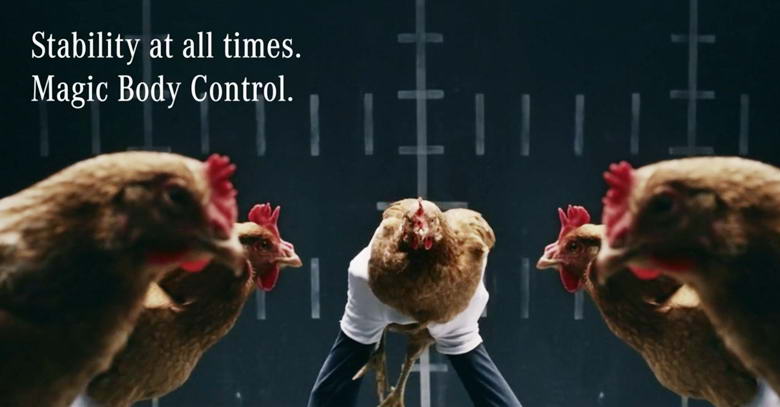 The German tycoon, Mercedes-Benz launched a television commercial that stars five farmyard chickens, to illustrate the 'Magic body control' feature which enhances stability of Mercedes S-Class.
The commercial makes use of the anatomy of chickens, to explain the Magic body control feature, as their heads remain riducolously still while their body moves with the music.
The added feature in S-Class allows its users to have a road experience that would complement the stature of their automobile. 'Magic body control' scans the road ahead and adjusts the suspensions accordingly, ensuring a smooth ride.
Atypically for Mercedes, the commercial is light-hearted and demonstrates the innovative feature imaginatively. Also interestingly the advertisement does not show the actual Mercedes or a car at any point.
Also using the 80s disco classic 'Upside Down' by Diana Ross and the Supremes was a master stroke. The 53-second TVC has gone up on The Unruly Viral Video Chart due to its 350,000 shares and 3.8 million views till date.
This advertisement from 'almost-nine-decade-old-luxury-automaker' is deemed bizarre but also refreshing.
However, little do people know that a study conducted by K.E Money in 1962 on 'Brown Owls', concluded in praising their remarkable head stability. Money also posted a video on YouTube, years ago, documenting this fascinating feature in owls.
Therefore, certain critics might call the advertisement 'inspired' rather than 'innovative'.
Mercedes-Benz is part of the 'German Big 3' luxury automakers, along with Audi and BMW and together they are the three bestselling luxury automakers in the world.