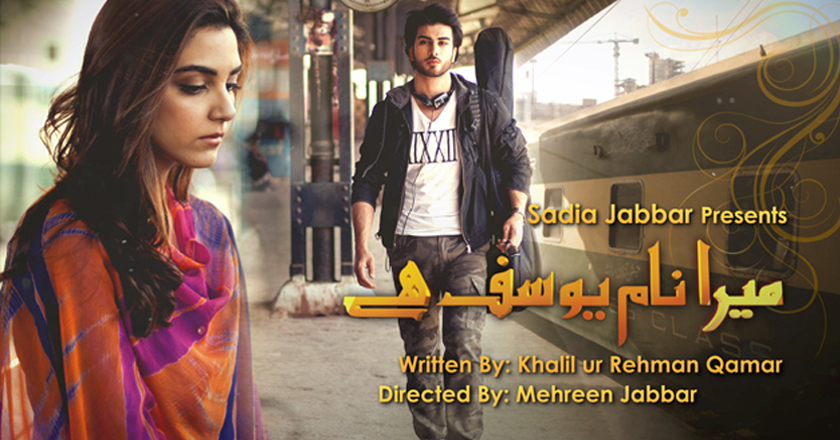 Known for his intense love stories, Khalil ur Rehman is back with yet another romantic tale set in an overbearingly strict society, entitled as 'Mera Naam Yousuf Hai'.
Directed by Mehreen Jabbar, Mera Naam Yousuf Hai stars Imran Abbas as a love struck aspiring musician, Maya Ali as a caged modern day woman, Waseem Abbas as a strictly Islamic maulvi and Hina Bayat as a bitter housewife in a very realistic setting.
It starts off with the love interests meeting for the first time in a baraat packed train; the hero love struck at first sight, the heroine apparently rude but stealing glances and the strict father with all his protective guards up. The way the story has set itself and moved forward in the first episode is quite refreshing,considering Pakistani dramas stretch the storyline unnecessarily and keep it to bare minimum in the first few episodes.
Moreover, the drama is devoid of those typical Pakistani drama settings with thousand acres mansions, women clad in designer wear with the perfect winged liners and vulgar romantic dialogues. The drama looks and feels real with the house's peeling paint in the background, women dressed in simple but not drab dresses and uncomplicated dialogues.
View the original sound track of the drama below:
The story continues with narration of each main character's family life. Yousuf's mother is worried over his future while Zulekha's parents are fighting over whose family to give away their daughter to. Performance by Hina Bayat is worthy of mention as the vengeful bahu, plotting against her husband's family and her outright refusal to be a part of them.
As far as the love story goes, apart from an abrupt conversation between the leads at a train stop, the hero had nothing to go forward with, till he spots the heroine's sister at her college. While heroes of today use Facebook to stalk love interests, Yousuf is the old age hero; he follows the relative to the house and introduces himself point blank to her.
Stuck between potential suitors, the bankasajeela's of her parents' families, while Zulekha is outspoken and fierce in front of her mother, she turns into a timid daughter when it comes to her strict father. But with Yousuf's interest in her, you can predict the transformation of her character into a confident woman, willing to stand up for her rights.
What makes the plot interesting is the use and the focus on the iconic names, Yousuf and Zulekha. How Khalil ur Rehman and Mehreen Jabbar are going to portray them is yet to be seen but the first episode has all the signs of an intense love story with defiant star-crossed lovers, adamant villains ruining it all and a tragic ending.
Why do we see a tragic ending for the tale? Because of Khalil ur Rehman's penchant for realistic endings. The writer is known for believing that death is a more realistic and happy ending rather than the typical "happily ever after" one.
In other projects by Khalil ur Rehman, we have always seen and loved the spunky heroine ready to defy all, fateful meetings turned into love at first sight and revenge killings.
But what makes the airing of Mera Naam Yousuf Hai right now more interesting is its sharing of the same air time with Sadqey Tumharay. Penned by the same literary maestro, it will be exciting to see how each drama fares against each other and if the new one steals the audience from the 1970's love story.
Watch the preview of the second episode below: