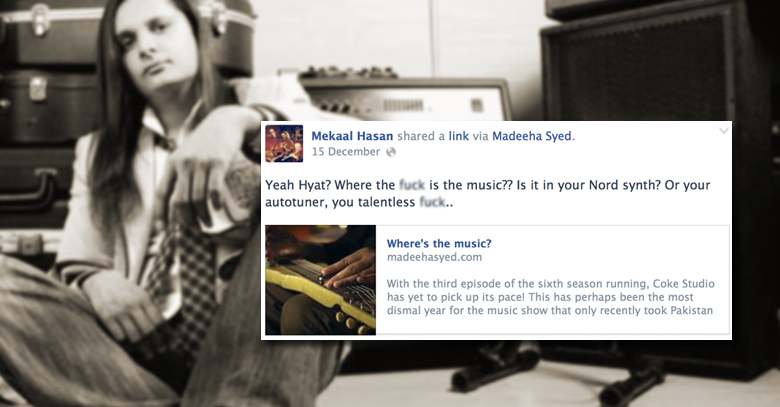 Mekaal Hasan has lashed out on Rohail Hyatt, publically swearing the Coke Studio producer and his work. Meeka, himself is a well-recognized composer, songwriter, guitarist and founder of the Mekaal Hasan Band (MHB).
It is worth mentioning here that the lead vocalist 'Javed Bashir' of MHB has performed in Coke Studio Season 3.
Coke Studio is perhaps the biggest Pakistan produced show, running its sixth edition after five years of amazing success both within the country and outside.
Before the launch of the now-ongoing Coke Studio season 6, the team had announced that it will include major international musicians to establish further the crimson studio's inventive and original blend of music, however this proved a stretch too far for Coke Studio and Rohail Hyatt.
Almost every music fan has criticized Coke Studio season 6 and its incomprehensible innovation. Not many have been pleased with the involvement of the international musicians BUT, Mekaal Hasan's comment on a critical piece on Coke Studio published in Dawn.com is by far, the most bizarre reaction.
Commenting on the article, Meekal said,
"The producer of the show is a man who is a self-acclaimed producer, having not produced a single noteworthy artist or record in over 20 years. It is a show for Rohail's insecure ego, and that is why you are seeing and more importantly, hearing the same thing or nearly 7 years. Only in our country could a non-musician, a man who hates real musicians and makes sure they are not even heard, and a hack 'producer' lord it over real talent. Mr Hyat's God complex, skillfully camouflaged as a guy who simply 'loves music' is obvious."
Mekaal Hasan seems not only angry but literally disgusted with the reality that can only be explained by something much more personal than the 'inclusion of international musicians' in the show. Mekaal Hasan bashes the show, and more so – Rohail Hyatt the producer and once-a-part-of-Vital Signs.
There has been criticism on Rohail Hyatt's decision making, but not like the one Mekaal Hasan did.
Mekaal insults the show, asking the same question the critical piece points out, "Where is the music?" as he goes on to call Rohail Hyatt a talentless F**k. Something which doesn't suit the stature of Mekaal Hasan, when he proclaims himself to be a "Sufi" musician more than anything – ironic isn't it?