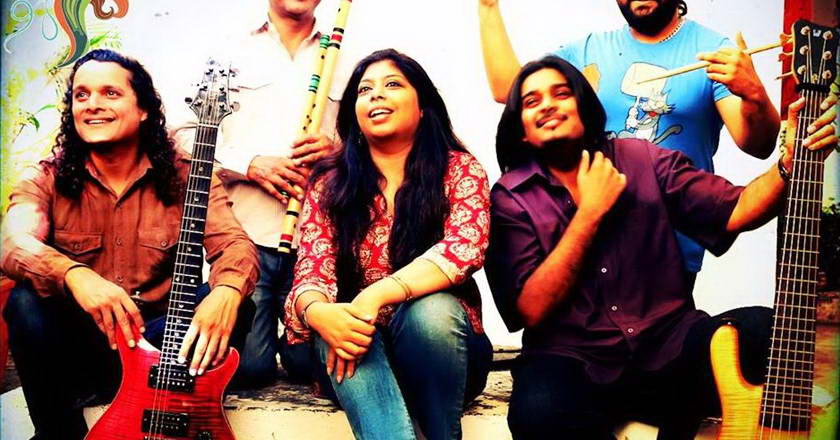 Pakistani Sufi-Rock band, Mekhaal Hasan Band (or MHB), after electrifying the Pakistani audience with its heavy guitar riffs, heart-skipping drumming, serene flute, and soulful vocals, has now gained numerous plaudits across the border in India as well.
Their latest album, Andholan, has been nominated for this year's Global Indian Music Awards (GiMA) in the 'Best Rock Album' category. 
Led by one of Pakistan's leading guitarists, Mekaal Hasan, the band has brought in Indian musicians to make this band one of the most promising Indo-Pak musical ventures in recent times.
Speaking of his pride at the nomination, Mekaal Hasan said that even though the band includes some Indian musicians, the music they produce is purely Pakistani, and that makes the nomination ever-so special.
MHB's success in a music industry dominated by the more exciting brand of commercial, Bollywood music, Mekaal Hasan says that he believes the concert culture of our neighbors allows bands such as MHB to reach a wider range of audience.
The concert culture in Pakistan is not yet up to the level of that that the Indians possess, which is why numerous Pakistani bands and artists, including Abida Parveen, Junoon, and Strings, cross or have crossed the border to gain international popularity.
The Mekaal Hasan Band is due to perform in Lahore during the GiMA ceremony which is why the band's Indian vocalist, Sharmistha Chatterjee and management will attend the ceremony on the band's behalf.
Indeed this is a proud moment for us Pakistanis. We wish Mekaal Hasan and his entire band the very best of luck!