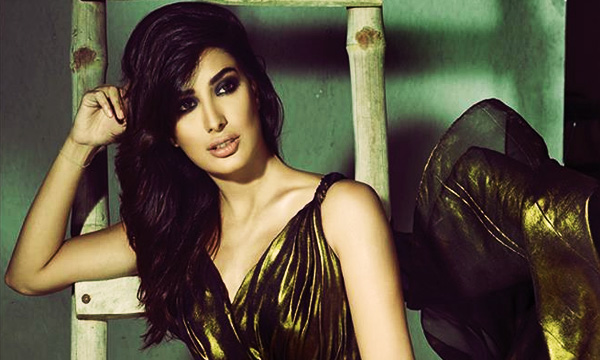 Pakistani actress Mehwish Hayat has it all covered! From being a model to a television actress and now a full-time movie star, it seems Mehwish will leave no stone unturned to become the biggest Pakistani diva! Read on to find out more about Mehwish Hayat!
PERSONAL DETAILS:
Real Name: Mehwish Hayat
Nickname: Mehwish
DOB: January 6th, 1990
Age: 26
Nationality: Pakistani
Lives in: Karachi, Pakistan
Birth Place: Karachi, Pakistan
Height: 5'7
Hair Colour: Brown
Eye Colour: Brown
Relationship Status: Single
Profession: Actress, Model, and Singer
Read More: Sajal Ali – The Doe-Eyed Girl Who Becomes Television Queen
LIFE OF MEHWISH HAYAT
Mehwish Hayat is a very talented model turned actress, having reached new heights of success in her career as an actress. Born in Karachi on 6th January 1990, Mehwish completed her education in Karachi.
The stunner, with her brown eyes and brown hair, is around 5'7 inches tall. Mehwish has 2 older brothers and a sister. She is the youngest.
Did You Know? Mehwish Hayat is quite gifted in the realm of singing, with a very melodious voice.
From the runway to being featured in drama serials, she has become one of the leading ladies of television as of late. She has been featured in numerous ad campaigns, commercials and billboard campaigns for a wide range of brands.
WORK DETAILS AND ACHIEVEMENTS
While working as a model, Mehwish has been featured in numerous advertisements and on billboards for a multitude of brands. Some of these include the likes of Coca-Cola, Peek Freans, Habib Oil, Tang, Colgate, Olpers, Brite and Dawlance. She has also modelled for Gul Ahmed.
The actress has also acquired roles in various television serials over the years, having worked for almost every Pakistani Network. Some of her drama serials include Manchalay, Meray Qatil Meray Dildaar, Mirat-ul-Uroos, Prem Lata, and Resham Ke Shaam.
Did You Know? Mehwish Hayat is the only Pakistani woman who has been acknowledged by Eastern Eye Magazine, a reputable U.K. based magazine, as the ninth sexiest Asian woman in 2008 as well as 2009.
She has also taken part in plays, namely Aakhri Saans, Aulaad, and Gulaabi Saarhi. She has also acquired various roles in a few movies, with the most notable appearance in the song 'Billi' in 'Na Maloom Afraad'.
Mehwish will be seen in an upcoming drama with Humayun Saeed.
Mehwish is also a part of the anti-terrorism campaign "Yeh Hum Naheen", which uses commercials and interviews to condemn terrorism and represent Pakistan in a positive light.
Let's have a closer look at her filmography, discography, and television career:
TELEVISION:
| | |
| --- | --- |
| Year | Title |
| 2010 | Mannchalay |
| 2010 | Phir Chand Pe Dastak |
| 2011 | Bin Tere |
| 2011 | Mein |
| 2011 | Meray Qatil Meray Dildar |
| 2012 | Mirat-ul-Uroos |
| 2012 | Manjali |
| 2012 | Kitni Girhain Baqi Hain |
| 2014 | Ishq Mein Teray |
| 2013 | Kabhi Kabhi |
| 2013 | Kami Reh Gaee |
| 2014 | Ru Baru |
FILM:
| | | |
| --- | --- | --- |
| Year | Title | Role |
| 2009 | Bint-e-Maryam | Maryam |
| 2009 | Insha'Allah | Sahar |
| 2014 | Na Maloom Afraad | Billi |
| 2015 | Jawani Phir Nahi Ani | Marina |
DISCOGRAPHY
| | | |
| --- | --- | --- |
| Year | Title | Drama |
| 2011 | Tell Me Why | Meri Behan Maya |
| 2012 | Pani Barsa | Manjali |
| 2012 | Har Saans Gawahi Deta Hai | Mirat-ul-Uroos |
| 2013 | Mujhse Ab Meri Mohabbat Ke Fasanena Kaho | Talkhiyaan |
CURRENT WORKING ASSOCIATIONS
Mehwish continues to model and feature in ad campaigns. She has endorsed and appeared in ads for popular brands such as Tulsi, Fresh Up bubblegum, Disprin, Telenor, Tarang, Habib Oil, Coca Cola, Peek Freans (Sooper and Chocolate & Lemon Sandwich Biscuits), TANG Juice, Gul-Ahmed, Colgate Toothpaste, Olper's Milk, Brite Total, Dawlance Cook-king Microwave and Dettol Soap etc.
Did You Know? Mehwish Hayat has had surgery to increase the size of her lips!
She has also promoted Japanese messenger app, LINE, to Pakistani users. You can view her promo video below, which features Hamza Ali Abbasi as well:
[dailymotion id="x2s9ej1″]
Watch her ad for Tulsi with Hamza Ali Abbasi below:
Mehwish was also a mentor for the yearly Veet Miss SuperModel show for 2015, where Jezmine Kiyani, from Team Mehwish won.
Pakistani Movies
Mehwish Hayat's claim to movie fame undeniably is the item number she pulled off for Na Maloom Afraad. Her performance in the song 'Billi' shot her to stardom, although the song was not well-received in the public opinion.
Watch the video below:
[dailymotion id="x335lgk"]
Mehwish has recently acted in the hit blockbuster 'Jawani Phir Nahi Ani', where she played the role of Marina, a girl in Thailand who falls for Humayun Saeed and follows him back to Pakistan to marry him.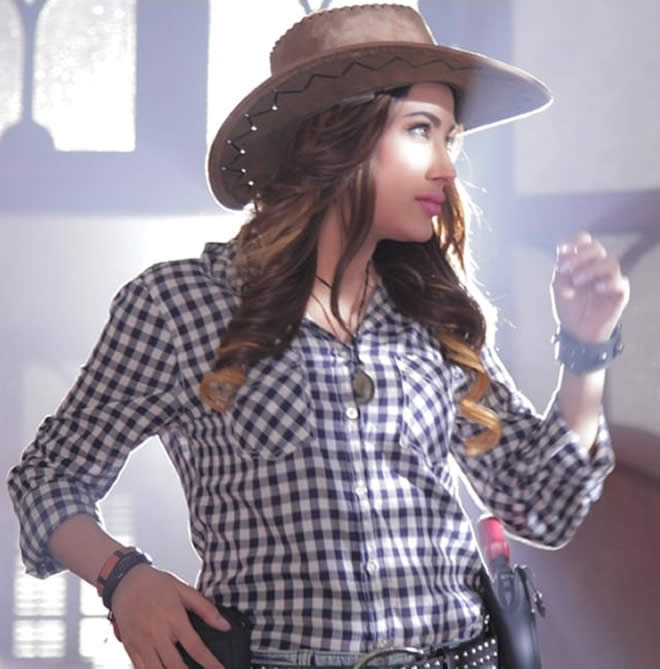 Did You Know? Billi is Mehwish Hayat's first and last item song.
After the release of JPNA, Mehwish is currently in the process of filming and working towards her next movie, 'Dhoo Daala'.
Picture Gallery:
Mehwish Hayat For Azfal Jewellers:
Mehwish Hayat For Fayyaz Ahmed:
Stay tuned to Brandsynario for more updates on Mehwish Hayat!
Read More: Armeena Rana Khan: From Runway to Hollywood!