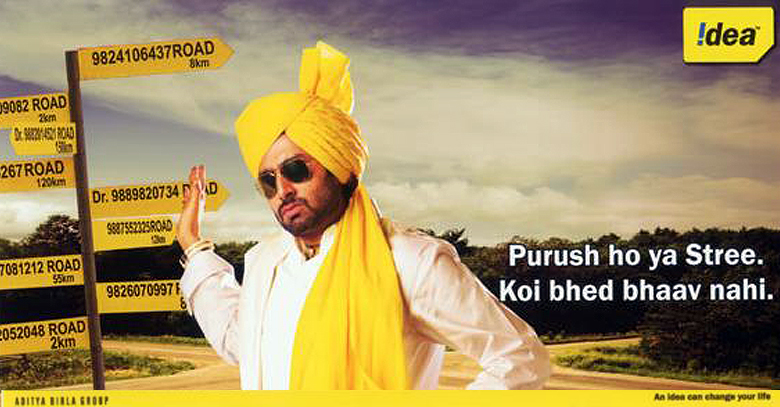 By Zoya Anwer
The blockbuster action film, Dhoom 3 star, Abishek Bachchan is again endorsing India's leading Telecom brand Idea. The actor who made the campaign of "What an Idea Sir jee" immensely popular was cut off from all the links of the company.
But with the recent success of Dhoom 3, Idea Cellular took the opportunity to make most from their endorse Abhishek was taken out of the commercials.
Just a week before the release of the Yash Raj's third sequel of the film, Idea Cellular had put up billboards with the Abhishek. The long gap of two years raised many questions about the current commitment between the brand and the star but sources said that all is smooth.
The representative of the celebrity endorsements told media, "Abishek and Idea have had a longstanding relationship. Yes, he was missing in Idea's campaigns for a while but many a time the creative does not require the celebrity to be present in the campaign."
The brand has been airing old ads featuring Bachan Jr. and believes that the timings are "perfect" because Dhoom 3 is a roaring success and will heighten Abishek's film career as well.
The very famous advertising agency, InterPublic Group's subsidiary, Lowe Lintas is responsible for the marketing campaigns for Idea Cellular and is headed by the creative director, R. Balki.
The agency was able to give consequently successful campaigns like, "What an Idea Sir jee", "Walk and Talk", "Honey Bunny" and the latest one, "121".
The previous two campaigns were not endorsed by Abhishek Bachchan. While "What an Idea Sir jee" was about addressing different social issues, "Walk and Talk" dealt with maintenance and precautions of health and "Honey Bunny" showed the diversity through the brand consumption.
Abishek Bachchan has been consistent in his performance as a Police Officer in the Dhoom series, all three being major hits.
The actor is currently endorsing the Omega high-end watches, Videocon d2h (satellite TV providers) and Prestige TKK with his wife Aishwarya Rai Bachchan, a brand that deals with kitchen supplies. His newer commitments will be revealed in the first four months of the new year.
Indeed, Idea Cellular is not the first brand to grab such an opportunity rather almost all the brands make sure to get their hands on celebrities that would ensure the fame and reputation of the brand especially when the celebrities achieve something grand and win the hearts of the public.