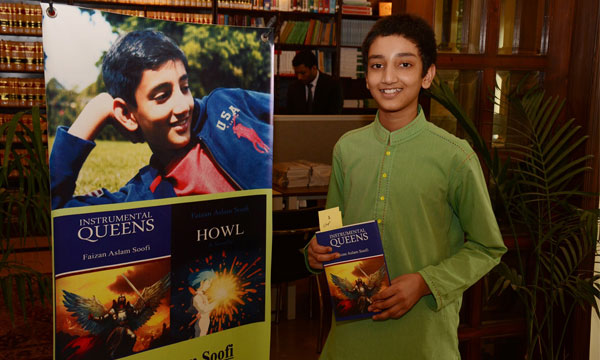 An 11-year-old  Pakistani kid has made the nation proud by becoming one of the youngest published authors of the World. Faizan Aslam Soofi is one the youngest published fiction writers from Pakistan.
The youngest child in his family with two elder brothers, Faizan started writing short stories when he was only eight years old. At the age of nine, Faizan quietly typed his first novel called "Howl".
He says that this novel was based all on his imagination, but he acknowledged that he was inspired by other writer's script to his parents; they were in an utter state of disbelief.
His mother, who is an English Literature graduate, only did some minor editing and completely retained the book in its original language and script.
The publication of the book took some time; by the time it got published Faizan Aslam Soofi was only ten years old. The novella was published by the Book Home Publishers.
Read More: Shazia Parveen – Pakistan's First Female Fire Fighter Saving Lives Since 2010
When his story was presented to his teachers and principle at the Aitchison College Lahore, the Head Master and the staff called Faizan for an interview to politely confirm that "Howl" was his own piece of work.
Inspired and motivated by the feedback from his previous novella, Faizan was still ten years old when he started writing his second novel of 45,000 words long titled "Instrumental Queens".
The new novel "Instrumental Queens" was launched formally in Islamabad at a graceful ceremony where many well-known personalities were present such as Dr. Zafar Altaf who said that Faizan "has set a target for the entire generation".  Additionally, the Principal Farhat mounded compliment on Faizan and said that "the mellowness with which Faizan has dealt the practicaltones of language is simply extraordinary."
MrIrshardUllah Khan, a well-known Ravian and aRhodes Scholar praised Faizan's work and invigorated him to compose more while asserting that "in my opinion Faizan is eligible to a Rhodes scholarship already."
Faizan has sent a number his book copies to J K Rowling and she has sent a letter of appreciation to him. He also comes in the youngest copyright applicant from Pakistan.
When he first submitted his work for copyright registration, there was an objection raised against it that the applicant doesn't have a national identity card. The Intellectual Property office was then convinced to accept the application on the basis of his birth certification form.
Faizan also likes to write poetry and some of his poems have been published in the Dawn newspaper.
Currently, Faizan is exploring different fields of writing like composing English plays. He has already composed three plays and a second novel which is with his mother presently for reviewing.