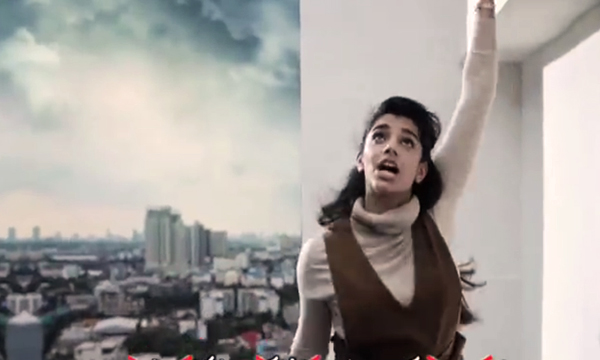 Ufone has done it, yet again! As always, Ufone sticks to its legacy of making hilarious advertisements. Featuring Meekal Zulfiqaar and Sanam Saeed, the brand publicizes the Super Card offer in the latest 'Ufone Super Card –Bachat bhi Sakoon bhi' TVC.
Now that Ufone can no longer hire the notorious Ayyan Ali, the brand made a clever move by roping in the stunning starlet, Sanam Saeed alongside the ever popular Meekal Zulfiqaar. The duo's previous 'Ufone- Hisaab Do' advert was even more hilarious and went viral all over social media in no time!
Read more: Sanam Saeed & Meekal Zulfiqaar's Ufone Ad Twitter Roundup
Produced by Tadpole Films and directed by Ahsan Rahim, the advertisement throws you into fits of laughter by the end of it.
The advert has started going viral on social media within only 20 hours of it being posted; with 8,892 Views and 175 shares in less than a day, the TVC is receiving quite a positive response! Mukhtar Zaidi is the Associate director while the audio is by Shani Arshad @HM Studios.
Let's watch the entertaining advert below:
[fb_embed_post href="https://www.facebook.com/ufone/videos/10153086164430706//" width="550″/]
Read more: Watch Shehzad Roy's Hilarious Acting in Ufone's Latest TVC
The bone tickling, one-minute TVC features Sanam Saeed hanging from a building's window, shouting for help when Meekal suddenly transforms into a superhero to save his wife, Sanam. Instead of saving her, he starts complaining about how he can save minutes on his phone; Sanam advises him to use the Super Card, which has no extra or hidden charges, nor any tax deductions. Meekal immediately runs to get the Super Card leaving Sanam hanging by the window.
The last few seconds of the TVC are hilarious owed to Sanam's acting. At the end of the TVC, Faisal Qureshi displays some funny spots about Sanam and Meekal, leaving the audiences into fits of laughter.
The superhero association with the Super Card is just commendable!
Read more: Ufone Mocks Telenor with Sacha Yaar TVC – Watch Video
Stay tuned to Brandsynario for more updates!