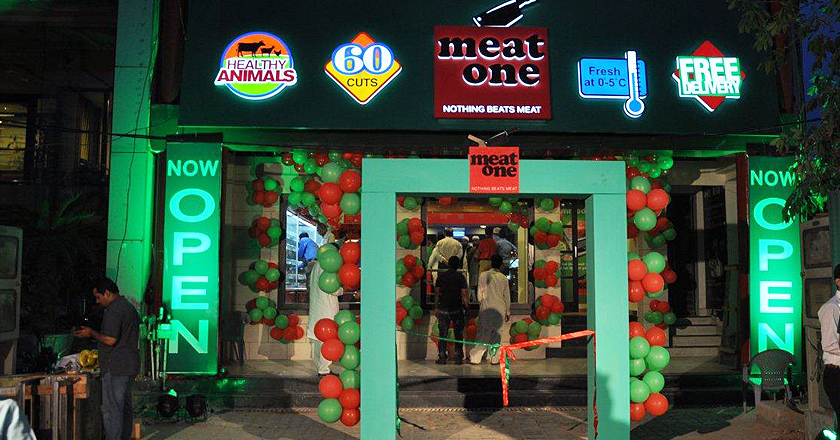 Pakistan's leading chain of specialty meat shops, Meat One has arrived in Lahore with its first outlet at Y Block, DHA, and today. The company also plans to open another outlet in the capital city Islamabad by early June.
The Lahore outlet was inaugurated by the famous cricketer and ex captain Inzamam ul Haq who was present along with other members of the current Pakistan Cricket team including the current captain, MIsbah-ul-haq.
Meat One has already established strong foot in Karachi with its 12 operational outlets. The retail chain plans to open additional shops throughout urban centers of Pakistan.
The premium meat chain offers 60 types of beef, chicken and mutton cuts and places great emphasis on the quality and safety of its products, ensuring that its products are sold fresh and not frozen.
Talking about meat processing and safety measures, Adnan Ahmed, Chief Operating Officer of Al-Shaheer Corporation, explained, "The company has a stringent value chain process whereby animals are raised without the use of antibiotics and hormones, slaughtered at state of the art halal abattoirs and their meat stored at 0-5 degree Celsius to prevent contamination from bacteria."
Kamran Ahmed Khalili, Chairman and CEO of Al-Shaheer Corporation, said, "Food contamination is a serious global health concern, but one that's particularly important to address locally. As food suppliers, it's our responsibility to provide products that are safe for public consumption and hence we take the extra mile to meet that objective."
Mr. Kamran added, "Meat One ensures that the animals it slaughters are fed on a grass diet and that they are raised in a natural habitat, as opposed to being grain-fed and kept in cages, which makes their meat more nutrient-dense than other meat products in the market."
While the company has its own Abattoir in Karachi, it plans to construct a modern abattoir near Lahore in near future, meanwhile Meat One has entered into an agreement with PAMCO, which will provide Meat One with access to its slaughtering and chilling capabilities."
The concept of frozen meat is a rising trend well-liked by the upperscale gentry in Pakistan. With rising competition from other local and international chains and superstores, Meat One has set its goal right for the years to come.