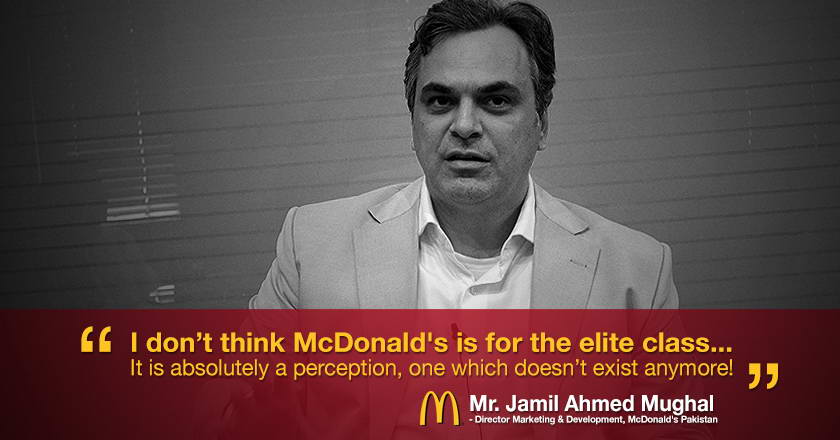 Fighting the scorching heat of Karachi and the peak rush hour of Saddar's traffic, we reached our desired destination – a massive building that acts as a fort for some of the biggest movers and shakers of Pakistan's commercial industry; one of whom we were to interview that day. 
Brandsynario got an exclusive opportunity to meet Mr. Jamil Ahmed Mughal, the man who is responsible for spreading McDonald's golden arches of fun, food and happiness for more than 15 years in Pakistan. 
While we were still contemplating the questions, Mr. Mughal came to greet us within minutes of our arrival and broke the 'too-busy-to-be-on-time' stereotype right away.
With his humble, easy-going attitude, dedicated attention and steaming mugs of McCafe', Mr. Jamil easily managed to set the conversation on track.  
Watch the video interview here:
The camera was set, the coffee was ready and with an easy rapport in place, we started the conversation with some personal questions about his journey with McDonald's Pakistan so far.
In his own words, "I joined McDonald's in 1998 as Manager Development when we opened our first store; since then, we have opened 31 restaurants in Pakistan. We were a total of 200 people inclusive of our operations team and our support team at that time, today we have strength of about 2200 people and have learnt tremendous things."
According to Mr. Jamil, the best part of working with McDonald's is that one isn't just delegated to do some work,  but he/she also gets complete autonomy – that is what makes one entrepreneurs. 
When asked about the influx of international food chains in Pakistan and their effect on McDonald's business, Mr. Jamil replied, "Many food chains have entered Pakistan and I am sure there are many more on the way."
"Every quick service restaurant is competition to us but we feel there is enough depth in the market for everyone to participate and do well,  provided they do their work properly." he further added.
Majority of the international fast food chains including McDonald's are generally perceived to be high-end products meant for the elite class only. Mr. Jamil clarified this misconception by saying, "McDonald's Pakistan is not meant for the elite class only; it is absolutely a perception that doesn't exist anymore. We have 31 restaurants in 8 cities of Pakistan today and all our point of sales in these cities reach everyone. We have successfully changed this perception with our affordable offerings and menu prices."
MOU Agreement with Shell Pakistan
McDonald's Pakistan has recently signed a MOU agreement with Shell Pakistan to develop multiple drive-thru restaurants in Pakistan. Shedding some light on this recent development, Mr. Jamil said,
"According to the MOU, we will co-develop on multiple locations in Pakistan. We are looking at Shell's future plans and they are also looking at our future plans so that we can strategize the retail network in a much better way."
The MOU with Shell Pakistan is an initiative by McDonald's to expand and enter second tier and third tier cities while providing people with the facility to pick their food while getting their vehicles fuelled up and vice versa.
Drive-thru restaurants near petrol stationa are a common sight in western countries.
According to Mr. Jamil, drive-thru restaurants at petrol stations should have been created much earlier but it has been a challenge due to the lack of suitable space available at gas stations.
"There may be a number of gas stations which are available, suitable or have excellent locations, but unfortunately they do not have enough space to give the right kind of drive-thru experience," he commented.
McDonald's Pakistan had signed a similar contract with Caltex and had successfully developed a drive-thru at Korangi road, Karachi. The fast food chain has entered a similar arrangement with Shell stations.
Mr Jamil also clarified that these drive-thru restaurants will also have proper seating space for people who want to enjoy their food within an indoor restaurant. Commenting on the decision to launch more drive-thru restaurants, Mr. Jamil commented,
"It is better to open a restaurant which has a drive thru, so you have the additional benefit of offering on-the-go food.  It does not mean we're opening a take away place only, instead these drive-thrus will be proper stores. Our Korangi outlet, which has a forty plus seating space along with a drive-thru, is a perfect example of combination that we will be creating in future."
The Changing Dynamics of the Pakistani Market
Mr. Jamil shed some light on the overall changing dynamics of the Pakistani population, its purchasing trends and McDonald's strategy in the following words,
"Our aim is to become affordable so that we can reach more SECs. We have got a lot of affordable choices. Our menu is such that you know you have got offerings from premium to affordable products. We have products for every SEC; for all gender and for all age brackets."
Establishing its brand name and identity in Pakistan was not an easy job for McDonald's, there were cultural challenges especially with respect to taste acceptability.
"The challenges we faced were long time back; there were issues with respect to taste difference but now we have expanded our menu to suit the local taste buds while at the same time, we have the offerings that form the core offerings of McDonald's globally."
According to Mr. Mughal, the universal taste and core product offerings of McDonald's form the basis of the strength that the brand enjoys globally. In his own words,
"McDonald's USP lies in the fact that globally across 120 countries at 34,000 outlets, when a customer goes to McDonald's he knows exactly what he is going for and how his food would taste. We wouldn't enjoy similar popularity if every country had a different Big Mac."
To address the taste of specific regions and to keep the right mix of local and global taste in their menu, McDonald's keeps introducing products that are relevant to the region's taste buds. Certain products are permanent whilst others are for limited time offers.
One brilliant example of blending taste with nationalities is McDonald's ongoing campaign 'Tastes of the World'.  In an effort to honor FIFA world cup teams, McDonald's Pakistan has been introducing special edition burgers. Some countries that have been covered so far include Argentina, Brazil and Italy.
McDonald's MFU (MADE FOR YOU) Policy
McDonald's is famous for its efficient customer service and fast delivery system which are made possible through a global policy called 'MADE FOR YOU'(MFU)
The basic idea behind MFU is that each time you come to the store, you place the order and each time the order is prepared, it is not stored or prepared in advance. MFU makes the product fresher and the service quicker.
The same global standard is applicable on drive-thru and take-away orders too. 
The staff at McDonald's Pakistan goes through rigorous trainings to ensure that global practices and standards are maintained in all outlets. The company has two fully functional and active training centers in Lahore and Karachi where employees from all level have to undergo trainings and tests to move ahead in their career.
2014 is going to be a thriving year as the calendar is full with a lot of affordable surprises, premium product launches, multiple dessert varieties and improved beverage options.
So far, we are lovin' every bit of what McDonald's Pakistan has to offer. Let's keep our fingers crossed for more mouth-watering delicacies to come.