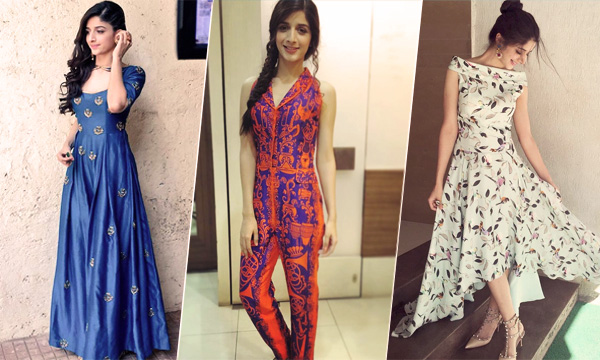 Bubbly, beautiful and brave are the perfect words to describe our young diva Mawra Hocane. With her Bollywood debut and its effective promotional campaigns has made her a starlet not only in Pakistan but also impressing many across the border.
It's not only her mesmerizing beauty, impressing talent and promotional stunts that are bringing her new wave of success and fame, but she is also winning hearts of many with her fashion choices and style statement.
She is grabbing attention from left, right and center by dressing up impeccably while promoting her debut movie. We have rounded up all her looks that she has been flaunting and what really worked and what is not so impressive.
Simple Dimple at Sanam Teri Kasam's Title Track Launch: A HIT!
It all started with Sanam Teri Kasam title track launch where Hocane appeared in an attire that reflect a perfect blend of formal yet stylish dressing. A beige shirt paired with matching pants and blazer with dark pouts and soft curls made her look like a diva.
Dull & Gray at Kheench Meri Photo Song Launch: A MISS!
She also wore a number of eastern cuts and ensembles and it seems that she is not as pro as she is in flaunting western outfit. A gray and nude Maria B. number was looking so average (blame it's ill-fitting). With so much going on in the dress and all the matching-matching strategy, this outfit is not one of her best choices.
Mawra's Hot Pink Number at Arjit Singh's Concert: A HIT!
For the song launch of Tera Chehra at Arjit Singh's concert, she made us skip a heartbeat in a crimson outfit by Elan with birds motif on it. The off-shoulder and bright colored dress required little accessories and she did it right by just pulling off this look with her signature hairstyle and minimal accessories.
Purple Promotions at EROS NOW: A MISS!
Is that a dress or an overcoat? Mawra needs to set her stylist straight! This Heart Embroidery Overlap Dress by Quirk Box looks like a bag on the slim built girl.
https://www.instagram.com/p/BAuKs4aoEM1/
Cream Chiffon at Sanam Teri Kasam Official Music Launch: A HIT!
Her appearance in another Elan dress was no less than a fairytale moment for her. She was looking breathtakingly gorgeous. With loose curls and nude makeup, she let her screen printed gown do the talking.
Orange & Blue at Sanam Teri Kasam Digital Shoot: A MISS!
This Pankaj & Nidhi jumpsuit gives you a headache just by looking at it! With light makeup, a side braid and no jewellery, Mawra fails to impress in this ensemble!
https://www.instagram.com/p/BA2eoBxoEH8/
Street Style Chic at A Press Meet: A HIT!
A monochromatic sartorial choice with a pinch of street style chic worked perfectly for Hocane. She headed to a press meet in a white tailored jacket paired with houndstooth pants and was a vision from head to toe.
Be it Subtle or Bright, Mawra Got It Right!: HITS!
So far, her best and our most favorite looks have to be these two. On one hand, in a Zulekha J Shariff's subtle hued printed dress she looks like a queen; on the other hand, the edgy fuschia outfit by Masaba Gupta let her rock a bold and fashion-forward look.
Mawra's Appearance for LifeOK: A MISS!
It seems like Mawra feels most comfortable in western cuts because whenever she is pulling off a traditional look, she is going down on the scale of style meter. For her appearance at LifeOK, she opted for a blue full-length dress with deep neckline and embellishments.
With a few days left in the release of the movie, we have to see what still in store of Mawra's closet to treat our eye with her bubbly, trendy and stylish looks.
Let us know which one of these is your favorite look? Stay tuned to Brandsyanrio for more updates and news