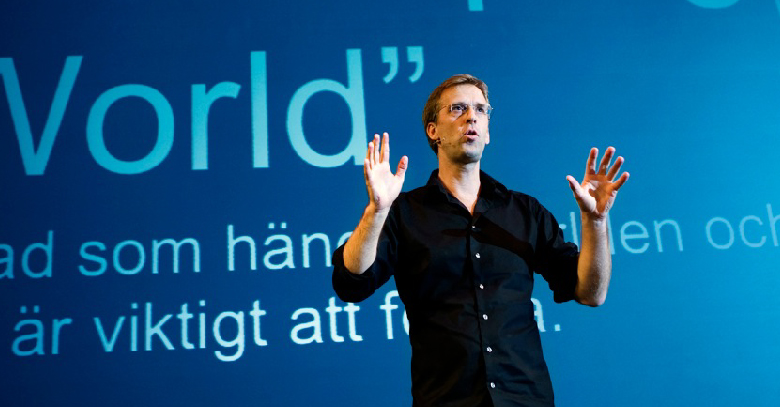 Fredrick Haren, a Swedish entrepreneur, publisher, author and world-renowned speaker on creativity and innovation was recently in Pakistan to address Marketing Conference 2012, organized by Terrabiz.
Synergyzer took this opportunity to talk to the author of "The Ideas Book", included in "The 100 Best Business Books of All Time" about his love for interacting with and learning about different business cultures.
Synergyzer: Tell us about yourself.
Fredrick: I studied marketing at university, and ran an internet consulting firm in the 90s which I sold in 2000.
Since then, I have been pursuing my biggest interest, studying and coaching business creativity for the last 12 years.
I travel to different countries and interview companies and people to see how they are flourishing through different perspectives and practices, for which I have been living in Asia for the past 6 years.
I include these experiences in seminars, speeches, key notes and books. Till now, I have written 9 books on the subject.
Synergyzer: Why did you decide to adopt ideas training as a career?
Fredrick: In 1995, when I wrote my first book, The Internet and Marketing, there were very few books available on the use of internet in marketing.
Yet, once it came about, business creativity encircled how each industry would utilize this development. At present, businesses revolve around globalization.
These changes were followed by a global financial crisis that altered everything.
Ideas help adapt to the crisis, aid in adopting change and to do things differently, which was why I took to training as a career.
Synergyzer: What is the driving force that brings you to Pakistan?
Fredrick: As I mentioned earlier, my personal driving force is to learn about the processes involved in as many industries and countries as possible.
For example, I recently traveled to North Korea, Ukraine and Spain to study their perspective on business creativity, and in the same manner, I am currently in Pakistan.
Synergyzer: Is there anything that discourages you from coming here?
Fredrick: No, not really. I have wanted to come to Pakistan since the last 2 years and I am happy that I am finally here.
I visited North Korea, regardless of the political conditions there. There are very few countries to which I would contemplate not going to and Pakistan is definitely not one of them.
Synergyzer: How do you rate the Pakistani market as far as creativity is concerned?
Fredrick: I find the Pakistani market very similar to India: The audience is very interactive; they ask questions and spark interesting discussions.
This leads to an exchange of viewpoints and for me; this is what creativity is all about.
Synergyzer: What have you learnt from interacting with diverse cultures?
Fredrik: What intrigues me is finding out why certain companies are thriving, while some are struggling and not able to move forward. I've learnt that the successful ones have a global mindset.
For instance, when I interviewed Emirates, I realized that the airline is growing faster than the rest as they call themselves an airline for 'global people'.
Recently, I have also published a book on this phenomenon called, "One World, One Company", in which I've highlighted what it means to be a global company.
Synergyzer: You also wrote a book called, "The Developing World"? What is it about and how is it applicable to Pakistan?
Fredrick: I wrote "The Developing World" when I moved to China in 2005. I went there with the intention of helping the Chinese learn about business creativity, but I realized that this learning process should be a two-way flow.
Therefore, I traveled to many developing countries and identified a number of advantages they have over developed nations, which also applies to Pakistan.
I believe Pakistanis should aim to learn as much from other developing nations as from developed countries.
Synergyzer: What should Pakistanis be learning about business creativity?
Fredrick: I believe that Pakistan has a huge potential to be creative because it has the advantage that all developing countries have which is the knowledge of their own culture as well as the Western culture.
For example, an individual who knows how to cook Chinese can only cook Chinese, but if he has knowledge regarding Western cooking, he can diffuse both the tastes to create a better cuisine.
Pakistan can use its connections to the Asian, Muslim and Western cultures to create something unique, which can be applied to all the three worlds.
On the other hand, an individual living in the West would not have this advantage as his knowledge is limited to his culture, only
Synergyzer: In your opinion, what are the factors hindering development in Pakistan? 
Fredrick: I think China, Malaysia, Thailand, Philippines, Turkey and a lot of different countries are using the strategy I just outlined.
I believe the factors impeding development in Pakistan are similar to those in Sri Lanka: internal conflicts, which are focused on too much.
Being a Pakistani, one should have more of a global approach which would help tackle this slow progress and widen opportunities internationally, with a focus on international affairs.
Synergyzer: Tell us about "The Idea Book"? How is it different from conventional books on business management?
Fredrick: "The Idea Book" is a book on business creativity, which is 50% book and 50% notebook.
This is the most intriguing part about it as   it gives readers a chance to interact with the book by writing down their ideas, along with learning about business creativity.
Hence, this book makes you think!
Synergyzer: When kind of research do you undergo before coming up with a new book? 
Fredrick: I write a book, go on tours to speak about it and also, meet businessmen during my travels.
The seminars create a forum for discussion of ideas and creative thoughts, where I test them and if I get an overwhelming response, I further research for that book and get it published.
In this way, one book leads to the other.
For example, the book, "Developing World" discussed the importance of a two-way exchange of ideas between the developing and the developed world, while the recent book, "One World, One Company" is a perspective on the world being a global hub where one part of the world can learn from the other.
Synergyzer: How do you prepare yourself to address different audiences from around the world?
Fredrick: When I come to deliver a speech in any country, I try finding out things like how many other speakers have come there before me, what issue they spoke on, how did the crowd react, what are some of the things that cannot be joked about and most of all, how can they be provoked.
All this information helps me understand my audience and helps me plan out my speech accordingly.
Synergyzer: Do you incorporate anything different for different people?
Fredrick: When Michael Jackson was asked a similar question, he said that each of his performance is the same, regardless of which country he is in.
This is because every human is the same: they cry, they cheer, they laugh and they stand up at the same time during any performance.
The speeches are similar as well, regardless of which country I go to. There is not much of a difference in this regard.
Synergyzer: Can you share how you dare people to think differently in your speeches and workshops?
Fredrick: My goal is to provoke people as well as to inspire them. Achieving both these things together is a difficult job because anger is usually followed by hesitance towards the speaker.
But if I succeed in provoking my audience, they will refute or question my views. The purpose of my speech is to help people push their boundaries by challenging views and thoughts.
Synergyzer: What are your further plans after these conferences?
Fredrick:  After I am done traveling, I plan to spend 6 weeks in my summer house in Sweden where I can relax and come up with new ideas.
I believe that the best ideas come when one is relaxed and not preoccupied with anything else. In terms of books, my next one will probably be based on fiction.