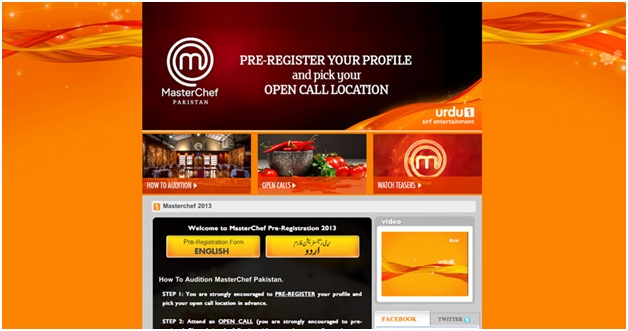 Do you have what it takes to be the ultimate cooking guru of all times?
Are you ready to flaunt your culinary skills to the world?
If your answer to the above questions is a "Yes", then gear up chefs and food devotees, for the world's top cooking reality show "MasterChef" is making its debut in Pakistan, hunting for the ideal chef who can conquer the country's culinary cosmos, once and for all.
The registrations for the big show are now open for the public and are up and about on MasterChef Pakistan'sofficial webpage, powered by its broadcasting channel "Urdu 1".
The registration process is effortless and absolutely free.
So all the cooking lovers out there: get ready with your knives and spices and sign up for the first ever, much awaited MasterChef Pakistan.
Eligibility criteria for MasterChef Pakistan
1. Age of 18 years or older in January, 2014
2. Citizenship or legal permanent resident of the Pakistan
3. No former or current experience of a professional chef
4. Current main source of income shouldn't generate from preparing and cooking fresh food in a professional environment (restaurant, hotels, canteens, catering etc.)
How to Register for MasterChef Pakistan
1. Potential participants must fill the pre-registration form available on the website and wait for their confirmation mail.
2. The email will include a reference number that is to be noted on the contestant application form that can be downloaded, once the pre-registration is completed.  
3. The contestant application form must be bought on the day of audition by the registrants.
How to Audition for MasterChef Pakistan
1. It is necessary for partakers to pre-register and select their open call location beforehand
2. Individuals must have their complete application form and their signature dish on the audition day.
3. The applicants must bring their dishes, prepared and plated in advance before entering the audition room.
4. No kitchen or utensils of any sort shall be provided and entrants should bring their own respective supplies.
For complete details and information, visit MasterChef's Facebook page or log on to http://www.urdu1.tv/master