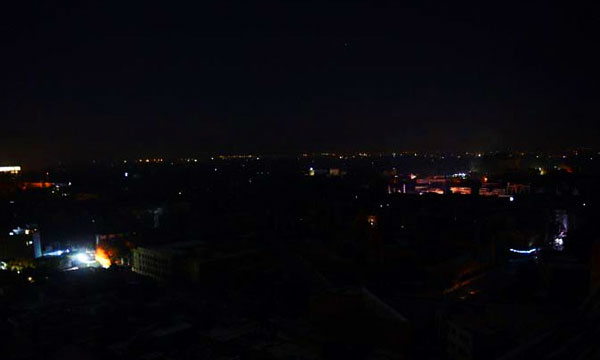 A 220KV power line that transmits electricity from Bin Qasim power plant was broken on July 7th that led the city of lights to fall into complete darkness. Following this power breakdown, two other major power plants in the region also tripped which caused parts of Sindh and Balochistan to become a victim of power failure.
The major power failure's ripple effect caused 560MW power plants to be shut down as K-Electric made repairs to the transmission line. In the Holy Month of Ramazan, it was surprising that a power breakdown of this proportion would happen in Pakistan, especially in Karachi.
Read also: K-Electric Charges to Increase Upto 80% Per Unit
It was a major technical fault at the national grid that result in a blackout at several regions of Pakistan; majorly affecting Karachi as 90% of the city was dipped in darkness.
After working straight for over seven hours, the transmission and plants started operating online that caused a gush effect which caused the HubCo Power plant, 660MW Jamshoro power plant and the 500KV national Transmission and Distribution Company (NTDC) to trip as well.
Also see:  K-Electric's 'Operation Burq' to Stop Power Theft
Due to this severe breakdown, large parts of Sindh and Balochistan were plunged into darkness; reports also said that this breakdown has also affected grids as far as Peshawar.
There was a second tripping in the line that led to blackouts in Karachi, Hyderabad, Thatta, Kotri, Mirpurkhas, Badin and Nawabshah. Hub, Lasbela along with other areas in Balochistan that were also affected.
According to the sources, a spokesperson of K-Electric said that work for recovering the line is in process and alternative arrangements have also been made.
Earlier, large parts of Karachi plunged into darkness on Tuesday evening after the main power line from Bin Qasim Power plant tripped.
With this breakdown, a 560 MW power deficit was created. The spokesperson also added that engineers have already started to analyze the situation but at the current moment it is not possible to provide an exact timeline for the recovery of the power breakdown.
This trip was unusual trips that became a severe issue as it cascaded other plants as well.  The power breakdown was seen in many areas of the city such as Gulshan-e-Iqbal, Gulistan-e-Jauhar, Malir, Korangi, Landhi, Defence, Saddar, FB Area, Tariq road.
Talking to The Express Tribune, a K-electric spokesperson said that such a trip was unusual.
The plant's shut down caused a power break down in many parts of city including Gulshan-e-Iqbal, Gulistan-e-Jauhar, Malir, Korangi, Landhi, Defence, Saddar, FB Area, Tariq road, Baldia Town, Dalmia, Karsaz, old city areas, Saddar, Keamari, Lyari, and others. While other areas include Kalat, Sorab, Mangochar in Balochistan, and Peshawar, Hazara Division, Mansehra, Abbottabad, Oggi, Batgaram in Khyber Pakhtunkhwa also suffered from  the power failure.
During the past few weeks, it has been observed that due to the rising demand of power, Karachi's power infrastructure has been under stress. This forced K-electric to operate on full-load even though the firm was already undergoing a stretched because of a major gap between supply and consumption.
The restoration work is in progress that will make the situation normal again in 2-3 hours.