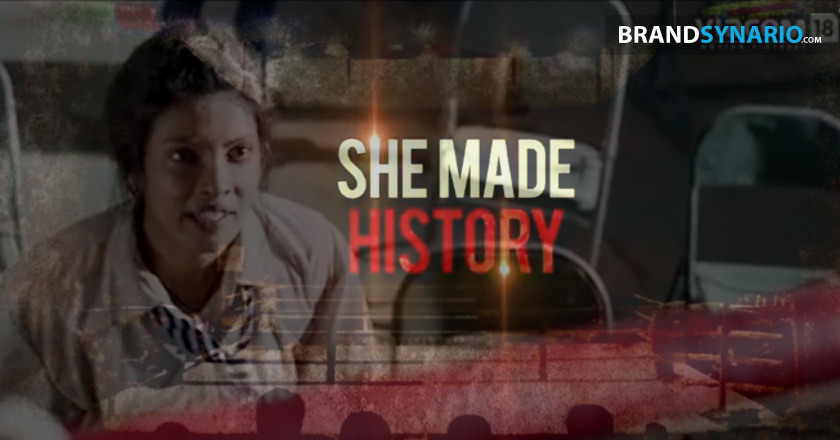 In times when Bollywood movies are all about filmy masala, high-flying romance and clichéd dance routines, India's latest women-centric, sport biopic "Mary Kom" has emerged as a breath of fresh air for the audience with its reality based, true tale of sweat and blood. 
The movie is a motivational masterpiece of India's finest sportswomen – a five-time world amateur boxing champion and the Olympic bronze medalist Mangte Chungneijang Kom aka Mary Kom.
Like Milka Singh, Mary Kom is yet another hero whose story needed to be unleashed and here is where Sanjay Leela Bhansali stepped in to produce the 25 corers budgeted project and directorial debut of Omung Kumar.
In front of our bewildered eyes, Priyanka Chopra transformed into the role of the freckly-faced, gritty, hot-blooded and stubborn Mary Kom who picks up boxing gloves one day to never look back and takes us all on a journey of her self-discovery. 
Against her father's opposition and the society's ridicule, she rises to the top in a largely male dominated field of boxing and pursues her undying love for the sport with determination set in her eyes and fury running in her veins.
Her talent combined with the training she receives from her "angry bird" of a coach Narjit Singh's (Sunil Thapa), Mary Kom materializes as an invincible champion, winning a plethora of global competitions.
But then, her career experiences a lurch when Mary's "Ziddi Dil" falls in love. With her heart lost in the thoughts of her dear lover, Mary bids adieu to her much cherished career, decides to settle and becomes a mother of two.
Here the story gains momentum when Mary's husband pokes her to pick her gloves again to make a stellar comeback in the pinnacle of the boxing world , again silencing the snobbish critics and making her dreams come true in front of our very own eyes.
However, it is only Priyanka's power-packed acting that added life and soul to the story, while she carried almost the whole movie on her shoulders. Her transformation from a fierce fighter to a humble mom has made us sure that no other Bollywood lady could have done justice to this role other than her. 
If truth be told, Mary Kom can be one of those movies that will draw many to the edge of their seats, but it might have its flaws too.  
Critics of the media circuit believe that much of the real-time, true story of Mary Kom seems to have vanished somewhere in translation due to high doses of drama in the middle, rating the entire movie as average overall.
Verdict:
Acting: 4/5 
Story: 3.5/5 
Direction: 3/5 
Screenplay: 3/5
Overall Rating: 3.1/5
Disclaimer: The views expressed below solely belong to the writer and does not necessarily imply Brandsynario's opinion towards an individual or a group.