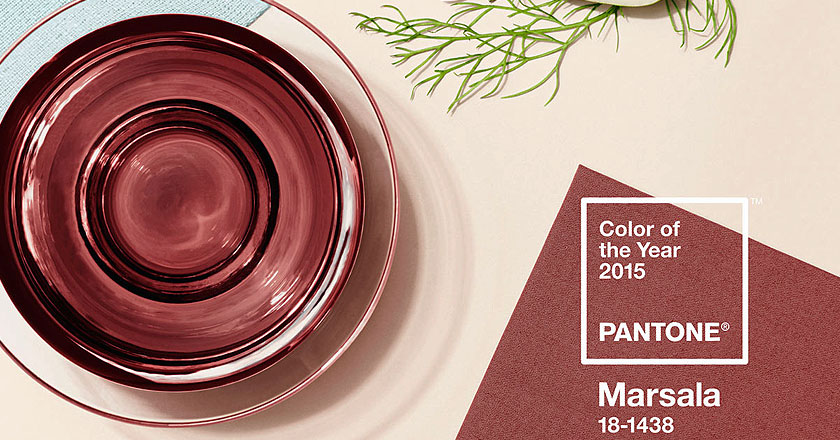 Every year, one color makes its way to the runways, fashion magazines and to the fashionistas closets – it's one of those ubiquitous hues that everyone seems to be sporting. This year, experts at Pantone, world's leading forecaster of color trends, have declared Marsala as the color of the year and we just couldn't agree more. Marsala is one of those seductive shades, luring us in with its warmth.
This creamy wine shade is largely different from Radiant Orchid, last year's absolute must-have. Marsala is wearable and versatile, it's one of those rare shades that can be pulled off incredibly in spring and very beautifully transition into our winter wardrobe – solely depending on how it's styled.
The color of the year applies to everything from fashion to furniture; it is expected to essentially pop up all over the fashion and beauty scene. From Marsala pants, to Marsala eye shadow, this color will be seen everywhere, world over, all year long.
"It's impactful and versatile. Marsala is a strong statement color – one that can look incredible when worn as a solid color, as well as beautifully compliment many other colors," says Alishay, Fashion Analyst, Daraz.pk.
This hearty, yet stylish tone is universally appealing and goes with fashion and beauty incredibly – add elegance to your look by incorporating this rich and welcoming hue in your makeup and accessories, wear it as a solid color or accent your outfit with tidbits of this stunner – you will sure be hitting a high fashion note no matter what you do.
Right now is the perfect time of the year to kick off Marsala, as it looks fabulous in light fabrics and flowy silhouettes. It's too hot to layer up or wear something that is too bold and flashy – a casual Marsala kurta is just what you need – pair it up with some funky pants and voila!
The color looks best when paired with powder blues and blush tones – who would've thought? And white is an absolute winner – that's still a little predictable. 
Accessorizing is fun when wearing Marsala as it makes gold accessories stand out. Play around with that funky gold bling that you have in your arsenal because now is their time to shine.
Complete this fabulous look with the right makeup. Red is super sexy but there is nothing sultrier than this color for your lips – it doesn't seem like you are trying too hard and it makes a strong statement at the same time – win win! For the final touch, add a slight tint of Marsala on your cheeks paired with seductive smokey eyes, need I say more?