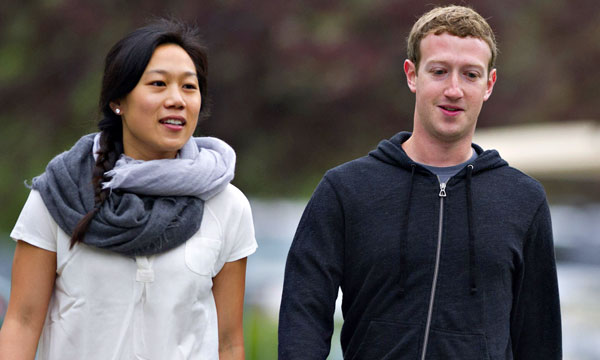 Facebook's CEO, Mark Zuckerberg and his wife Priscilla Chan on Tuesday revealed that they will give away 99% of their Facebook shares, currently worth $45 billion to a new charitable organization in a letter addressed to their daughter, Max, who was born last week.
Earlier on his Facebook page, Mark posted a photo of himself, his wife Priscilla and his newly born daughter Max with a post entitled as "A letter to our daughter."


The 2,220 words letter revolved around focusing on health, education, technology, internet access and learning issues.
Mark in his letter raised his concerns over the future life. He said, "Like all parents, we want you to grow up in the world better than ours today."
Here is the letter, posted on Facebook
Mark talking deeply about the humanitarian rights said, "We believe all lives have equal value, and that includes the many more people who will live in future generations than live today. Our society has an obligation to invest now in improving the lives of all those coming into this world, not just those already here."
The comprehensive letter, written by Mark Zuckerberg to his newly born daughter whirled around two main ideas: 'Advancing Human Potential' and 'Promoting Equality.'
In his letter, he discussed relevant ideas of making human life exceptional and exhibited his concerns over making opportunities available for everyone, regardless of race, class, nation or country.
Read More: Pakistan's First Ever Pocket Cinema Film Festival (PCFF): Even Details, Venue & Schedule
Zuckerberg in his post demonstrated that he and his wife will be giving away 99% of their Facebook shares, worth $45 billion to a new charity. He further revealed that this investment will be focusing on personalizing learning, health (curing disease), Internet access and community development ideas.
It is noteworthy that Zuckerberg at the age of 26 signed the Giving Pledge, under which the world's wealthiest personalities and families are committed to investing their money in charity.  Many billionaires like Mark, including Warren Buffet, Bill, and Melinda Gates have given away their fortunes worth billion in charity.
Read More: Google Search Now Allows To Save Photos For Later
It is pertinent to know that Mark and his wife Priscilla welcomed a newly born baby girl last week named Mark Chan-Zuckerberg. She weighed 7 lbs and 8 ounces at birth.