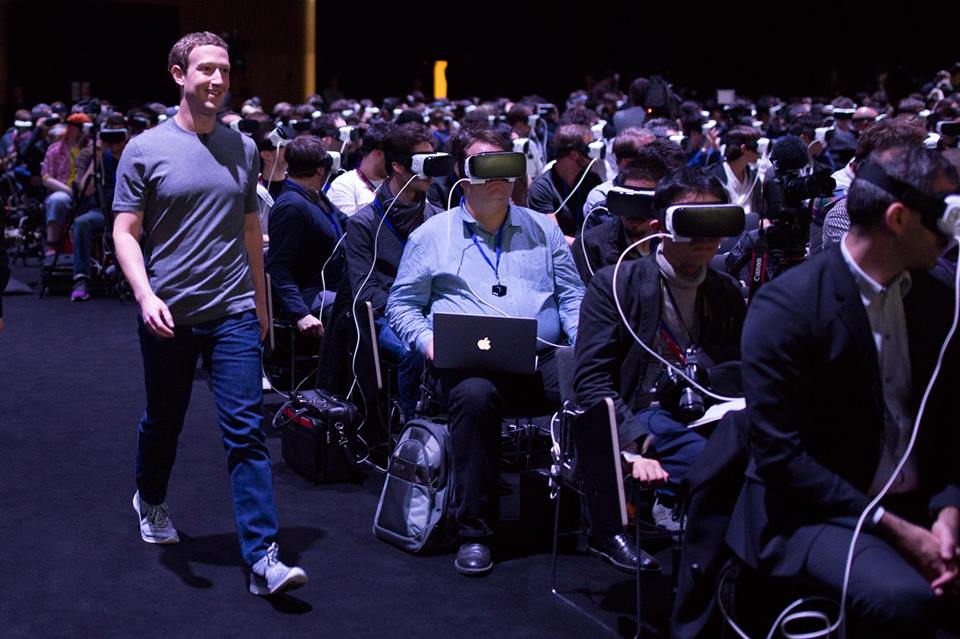 The Facebook CEO made a surprise appearance at Samsung's presentation event ahead of Mobile World Congress in Barcelona, Spain, to vaunt the merits of the firm's Gear VR headset. According to Mark Zuckerberg, Virtual Reality (VR) is about to shake up the social network as we know it.
The photo from Samsung's event — posted on the Facebook CEO's profile — has been doing the rounds on the Internet all day, showing Mark Zuckerberg in a trademark plain t-shirt walking among a crowd of journalists and experts wearing VR headsets, oblivious to his presence.
A few seconds later, Mark Zuckerberg took to the stage to laud the exciting possibilities of virtual reality technology in the future of Facebook and digital communications. The social network's CEO waxed lyrical about VR's ability to let users look and move around any environment, and to live and share exceptional experiences (like surfing, parachute jumping, exploring the surface of Mars, etc.).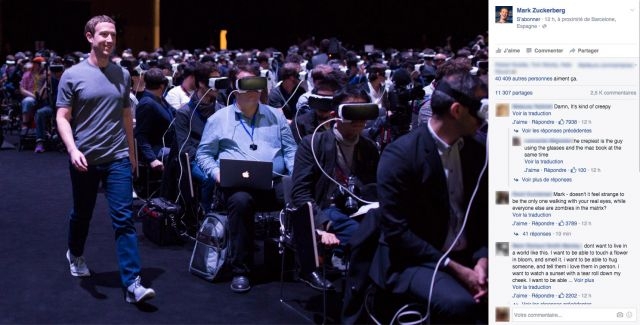 This will all be made possible thanks to a new partnership between Facebook (via Oculus) and Samsung.
For Mark Zuckerberg, VR will be the next social platform, with uses extending beyond games and other forms of entertainment. He used the example of his daughter, born in the autumn of 2015, to explain how VR technology could offer a new means of communication and social sharing.
In fact, he hopes to capture her first steps with a 360-degree camera, so that other family members can live the experience as if they're really there.
Preparations are already underway to make Facebook the best possible platform for the millions of 360-degree videos users will want to upload to share immersive experiences with friends and family across the globe.
Facebook's servers are being brought up to speed to broadcast live, high-quality 360-degree image streams while using the least bandwidth possible. All of this should be made possible — and compatible with Samsung's Gear VR headset — from as soon as 2016.
This could explain Samsung's free and large-scale distribution of the Gear VR headset with all preorders of Galaxy SS7 and Galaxy S7 Edge smartphones until March 10, 2016.
Mobile Word Congress runs February 22-25, 2016, in Barcelona, Spain. Website: mobileworldcongress.com.