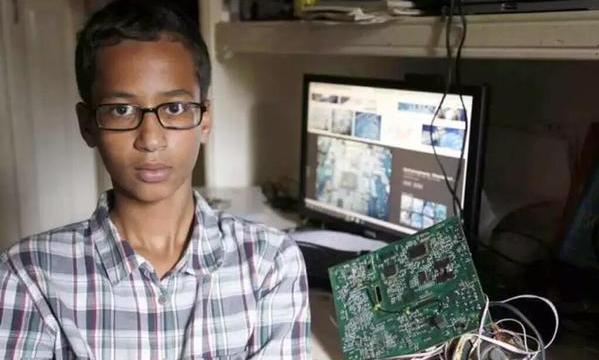 The arrest of the Muslim high schooler Ahmed Mohamed for being mistaken to be carrying a bomb has resulted in a firecracker effect on social media. With Mark Zuckerberg and Hilary Clinton showing strong support for the teenager, Ahmed has now received an invitation to the White House by U.S. President Barack Obama.
A 14-year old student of Irving, Texas, Ahmed brought his own engineered, out-of- a- pencil-case, digital clock to school to show off his proud creation to his teachers and friends.
Ironically, his instructor misjudged him to be threatening the class with a bomb. While the kid was hopeful of admiration, he instead got dragged in handcuffs by the policemen from the school's premises.
Flood of support for teen detained for making clock mistaken for bomb http://t.co/zDd9InJRQJ #IStandWithAhmed pic.twitter.com/LwSY12sGaH

— ABC News (@ABC) September 16, 2015
Surely, social media exploded in Ahmed's defense as #IStandWithAhmed trending worldwide on Twitter. While the school's administration came under fire for the horrendous blooper on their part, the whole episode is being labeled as "racist", "discriminatory" and "Islamophobic" by the worldwide community.
Here is a crap statement by Irving School. I fixed it for them. #IStandWithAhmed http://t.co/oJgy2bjo4N pic.twitter.com/qW8abiiCgI — heidi heilig (@heidiheilig) September 16, 2015
.@thecityofirving Have you apologized yet? #IStandWithAhmed #EngineersForAhmed — David Wood (@prototypo) September 16, 2015
Note to most people: Nearly everything is made of electrical circuits. Not just bombs. #EngineersForAhmed https://t.co/zdwxmtLIiS — tai viinikka (@viinikka) September 16, 2015
#IStandWithAhmed When a white kid builds nuclear fusion reactor it's cool but when a Muslim builds a clock it's not pic.twitter.com/TFwfg1lUf4 — wiss.➶ (@BUCKVBVRNES) September 16, 2015
Obama rose amongst all and extended a warm invitation to the innocent Muslim boy for visiting the White House.
Cool clock, Ahmed. Want to bring it to the White House? We should inspire more kids like you to like science. It's what makes America great. — President Obama (@POTUS) September 16, 2015
C.E.O Facebook Mark Zuckerberg applauded Ahmed on his brilliant streak of innovation and showed his eagerness to meet the student. [fb_embed_post href=" https://www.facebook.com/zuck/posts/10102373304096361/" width="550″/] Catching up with the trend was Hilary Clinton, who encourage the junivelle to continue with his creative feats.
Assumptions and fear don't keep us safe—they hold us back. Ahmed, stay curious and keep building. https://t.co/ywrlHUw3g1 — Hillary Clinton (@HillaryClinton) September 16, 2015
But the best part was when a scientist from NASA tweeted that the whole team at Jet Propulsion Laboratory will be happy to welcome Ahmed.
Infact, I think the whole of JPL would welcome Ahmed with open arms. #IStandWithAhmedhttps://t.co/9FU3ZlHkCi — Doug Ellison (@doug_ellison) September 16, 2015
Watch this video with Ahmed sending his love to all those who supported him in the bomb hoax  hullabaloo. [iframe id="http://www.dailymail.co.uk/embed/video/1214567.html"]