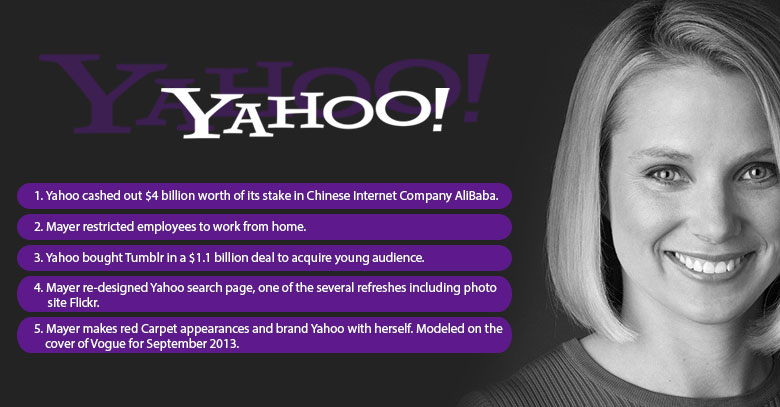 Marissa Mayer was ranked 14th on the list of America's Most Powerful Businesswomen in 2012 by Fortune magazine. She recently made it in Times 100 released this year, but who is  this lone-warrior of a woman making global headlines in a world dominated by men?
Marissa Ann Mayer is a 38 year old computer engineer, who was nominated the Chief Executive Officer (CEO) of Yahoo in July 2012, after which Yahoo has seen a rise of about 75% in its market share. This is what bought her into the limelight as a rising business woman.
Marissa is a mother, a wife, a specialist in Artificial Intelligence and now a CEO of a 30 billion dollar company. Formerly employed by Google, Mayer spent 13 years building Google into the internet giant that it is today. When she joined Google there were 19 employees before her, she was the 20th and by the time she left, Google had more than 44,000 employees.
Meanwhile, in America rebellious CEOs seem to be the new norm. It all started with the visionary Steve Jobs, who branded CEOs to be celebrities in his contemporary sense of clothing and a small suburban condo. Mark Zuckerberg with his casual T-shirts, hoodies and flip flops gave an impression of his personality that reflects his brand, Facebook, young and happening.
The same can be said of Marissa who gave Yahoo, part of her personality with her Oscar De La Renta wardrobe and frequent Red Carpet appearances. Marissa lives in a lavish penthouse of San Francisco's most expensive Four Season's Hotel. She recently starred on the Vogue cover page with her sizzling persona which broke every cliché in the book for a CEO. In the last year Yahoo seemingly adapted from its new CEO.
BrandSyanrio enlists the five great steps of Marissa Mayers:
1. Yahoo cashed out $4 billion worth of its stake in Chinese Internet Company AliBaba
Jerry Young invested $1 billion in Chinese company AliBaba, ever since then the fate of the two companies seemed to have departed. Yahoo struggled with one after another problem and AliBaba rose to become China's leading online retailer.
Within two months as CEO, Mayer took one of the major financial decisions of Yahoo which some at that moment claimed to be a naïve tactic.
However, the cash gained from AliBaba helped Yahoo to focus more on its fundamental issues like losing out market share to Google and facebook over search advertising.
2. Mayer Restricted Employee's to Work From Home
In a rather controversial turn of events, Ms. Mayer in February 2013 sent a Memo restricted all the employees from working from their homes. According to Mayer the collaboration makes work better, hence presence within the office is imperative.
"Some of the best decisions and insights come from hallway and cafeteria discussions, meeting new people and impromptu team meetings," she further added.
3. Yahoo bought Tumblr in a $1.1 billion deal to acquire young audience
With one of the most expensive acquisition in Yahoo's history, Mayer convinced the Board that the blogging website would provide Yahoo with the young audience it so desperately requires.
David Karp the owner of Tumblr, a 26 year old High School drop pout sold the company in a billion dollar deal. Many critics called this to be another bad decision on yahoo's part. Yahoo's share price meanwhile rose to $26 from what was around $15 less than ten months ago.
4. Mayer re-designed Yahoo wen search page, included photo site Flickr
With changing times and rule of Facebook and Google over the Internet, yahoo required an updated face. Mayers redesigned the ever-so-stagnant Yahoo search page. With a new navigation bar on the top of the page, Yahoo called it 'modern'.
Yahoo also claimed to have made some under the hood changes to enhance loading time. An updated home page was followed by a re-launch of the flag ship app, updated mail app, new weather app and the announcement of the massive overhaul of its massive photo sharing service– Flickr.
Next month, Yahoo was declared to be the biggest Internet property leaving Google and Microsoft behind.
5. Mayer makes red Carpet appearances
Mayer calls herself a 'Computer Geek'. Her family and friends describe her as 'shy' and 'socially awkward'. In Vogue's September edition a piece being written on Mayer's life was accompanied by a cover photo of the CEO in the most astounding fashion. To be fair, she did look ravishing but one could not have ever expected this.
Mayer truly has made yahoo re-appear in her own form, she has made it trendy, classy, up-to-date yet pleasing on the eyes. The editor of Vogue calls the picture, "strong and bold". Many may call her posing 'awkward' for a CEO but as proven wrong on all accounts earlier, Mayer seems determined to prove her critics yet again.