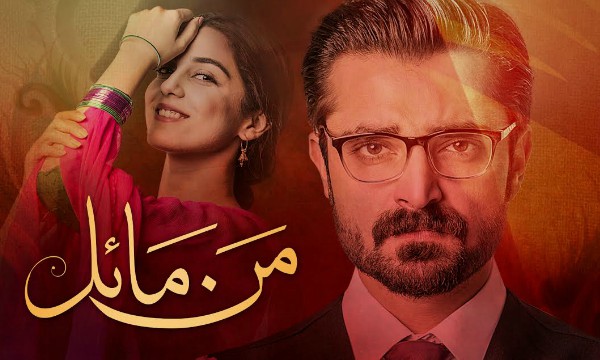 The first episode of much awaited 'Mann Mayal' finally aired on Monday. The hype created through immense promotion on social media and television worked as massive audience switched to Hum TV and myself, ofcourse, one of them.
While I thoroughly enjoyed the first episode, there were some parts that gave me a feeling of déjà vu. Let's first discussed the things I liked about the drama. Samira Fazal's well-knit script beautifully introduced us to varied characters of her serial  – the sober Sallu, the exuberant Mannu, yaaro ke yaar Bia, a typical loving father and a bit loud ammi among a crowd of several cousins, phuppo, tayeeis and chachis.
Maya Ali Talks About New Drama 'Mann Mayal' with Hamza Ali Abbasi: Watch Exclusive Interview
I loved the part where Bia hid the news of getting 'A' grade in exams from her best friend Mannu in a fear that she might get upset as she couldn't clear it. Bia's brother (Sallu) although had special feelings for Mannu but he never disclosed it due to class difference between the two. On the request of Mannu's father he agreed to help Mannu in her studies but in return it actually disturbed him as he couldn't stop thinking about her and even imagined her face in books.
Mannu, on the other hand, was shown as a carefree girl with no big motive in life. She agreed to take tuitions from Sallu with the sole purpose of meeting Bia's weird brother again and again. The first episode ran at a fast pace with a larkae wale coming to see Mannu. While preparations were going on for special mehmaan in Mannu's haveli she went out to Bia's house in a hope of meeting Sallu again.
The director beautifully presented the life of interior Punjab with purani haveli, diya and old Mazaar in the neighbourhood. The brilliant use of vibrant hues here and there with perfect lighting showed the good aesthetic and perfection of the director.
Now coming to the parts which gave me a feeling of been-there-before included the scene where dupatta-clad Mannu with a lantern in hands stepped out of her home in a desire to visit Mazaar for dua – it reminded me of Shano of Sadqaye Tmhare . The grand haveli look, Mannu's long hair and big joint family setup all reminded me of Sanjay Leela Bhansali's Hum Dil De Chuke Sanam.
The scene where Mannu ran after her brother and ended up meeting her father in the lounge was also something that made me thought about Aishwarya's role in Hum Dil De Chuke Sanam.
As far as acting was concerned, Hamza Ali Abbasi perfectly fit the role of sober Sallu with his deep voice and shalwar kameez look. His presence in the serial was one of the reasons I would continue following Mann Mayal till end.
Aiman Khan as Mannu's friend was also convincing. However, I couldn't digest the fact that they presented Maya Ali as a teenager Mannu. She didn't look like a 17-18-year-old girl and looked if she was struggling to get into the role.
Other than it, the drama was a visual treat and I couldn't wait for the next episode to air on Monday. For now, read these ten reasons why the drama would surely click among the audience.
1. Haseeb Hasan at the helm of affairs
After giving last year blockbuster serial, 'Diyar-e-Dil', the perfectionist Haseeb Hasan is all set to offer another masterpiece, 'Mann Mayal'. Known for his brilliant aesthetics, the director has several hit serials to his credit including Nanhi, Tum Hoke Chup, Bol Meri Machalee and Ahista Ahista.
https://www.instagram.com/p/BAZ54vRCUon/?taken-by=mannmayal
2. Another brilliant creation of Samira Fazal
The recipient of Lux Style Award, Samira Fazal has a command of presenting ordinary stories in an extraordinary way. It is really difficult to list down her successful play as she makes every play unique with her writing craft. She took Razia Butt's tale of Independence to another level with her brilliant dramatization in 'Daastan'.
It is simply impossible to forget the dominating nature of Bari Apa and the bebassi  of rape victim Rameen in Chup Raho. Fazal made the fiction characters come alive in a way that we feel if she was narrating our own story. I am sure 'Mann Mayal' will be another feather in her success cap.
https://www.instagram.com/p/BA7EuiQCUsR/?taken-by=mannmayal
3. Hamza Ali Abbasi comeback serial after 'Pyare Afzal'
Abbasi left the nation in tears with his stellar performance in ARY Digital's hit serial 'Pyare Afzal'. This time around, he comes back the sober Salahuddin aka Sallu.
The actor believed that Sallu is close to his real life persona in many ways.
"He is a nice guy and always takes practical decisions and listens to his brain than hearts. In my personal life too, I have often taken decisions with brains which I have later regretted," he said on a morning show.
https://www.instagram.com/p/BAmSHqUiUsl/?taken-by=mannmayal
4. Maya Ali as naughty Mannu
The Cinderella of Pakistani television industry is amongst the rare breed of artists who never forget to leave an impression with every performance – be it the headstrong Farah Behroze Khan of Diyar-e-Dil, the chulbuli Zara of Aunn Zara or beloved Zulekha of Mera Naam Hai Yusuf.
In 'Mann Mayal', her role will have a huge transformation from a chirpy Punjabi girl to a subtle and mature individual. Although the promos have so far revealed only one side of her persona but we are looking forward to different dimensions of her role in Mann Mayal.
5. Ayesha Khan – the surprise element of the drama
While the promo tells a lot about Mannu and Sallu, the character of Jeena (Ayesha Khan) have been kept under wraps. The actress, while talking about her in Hum TV's morning show, Jago Pakistan Jago said that her role has some grey elements.
Ayesha Khan and Haseeb Hasan have worked together in Geo's blockbuster serial Bol Meri Machalee.
https://www.instagram.com/p/BA34TseCUtx/?taken-by=mannmayal
6. Gohar Rasheed's stellar act
Gohar Rasheed has proved his acting mantle in several hit serials including Digest Writer, Goya, Paiwaand and Shikwa. Mann Mayal's promos have presented him as a stupid looking potential suitor for Mannu.
7. Supporting cast another important attraction of the play
Apart from lead characters, the drama has an ensemble cast with big names of  television industry including Atiqa Odho, Javed Sheikh, Laila Zuberi, Mehmood Aslam, Saba Hameed, Lubna Aslam, Arjumand Rahim, Vasay Chaudhry, Talat Hussain, Naeem Tahir, Ismat Zaidi and Aiman Khan.
https://www.instagram.com/p/BA36TWpCUv7/?taken-by=mannmayal
8. Filmy sets and real locations
The aesthetically pleasant director Haseeb Hasan has once again raised our expectation by introducing a vibrant culture of Interior Punjab in 'Mann Mayal'.
The colourful sets and picture-perfect locations present a larger than life canvas which is USP of Hasan and in this serial we expect to explore his creative persona through grand sets and beautiful locations.
9. QB's magical voice
The magnificent singer has once again created magic with her mesmerizing vocals in 'Mann Mayal'. The heart touching lyrics coupled with QB rustic vocals create an unbelievable aura, setting the perfect stage for the play the intense drama.
https://www.instagram.com/p/BAmNJabiUkd/?taken-by=mannmayal
10. Sana Shahnawaz's debut serial as producer
Ace wardrobe stylist and socialite Sana Shahnawaz is making her production debut with Hum TV's mega budget serial Mann Mayal.
https://www.instagram.com/p/BAy3R59iUhl/?taken-by=mannmayal