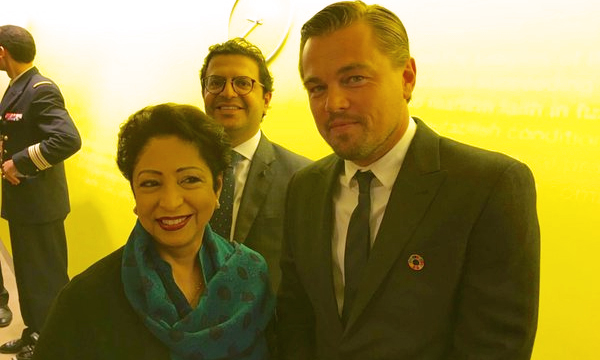 Maleeha Lodhi, Pakistan's Permanent Representative to the United Nations invited the Hollywood actor Leonardo DiCaprio to Pakistan on Friday.
"Met and invited Leonardo di Caprio, UN messenger of peace, to Pakistan," Lodhi tweeted, after meeting the Oscar-winning actor at a United Nations ceremony based on climate change.
https://twitter.com/LodhiMaleeha/status/723525561654607872/photo/1
Maleeha met the Hollywood actor at United Nations General Assembly. Pakistan signed the Paris Agreement along with 175 other countries. The deal was aimed towards the elimination of greenhouse gas emissions and henceforth, manage the global warming threat.
Hollywood actor and environmental campaigner Leonardo DiCaprio urged world leaders signing the Paris climate deal on Friday to deliver on their commitments to cut greenhouse gases, telling them: "The world is now watching."
"You will either be lauded by future generations or vilified by them," said DiCaprio at the UN ceremony where 171 nations lined up to sign the landmark accord.
"We can congratulate each other today, but it will mean absolutely nothing if you return to your countries and fail to push beyond the promises of this historic agreement."
https://youtu.be/r_mbC9pEwBA
"Now is the time for bold, unprecedented action."
The actor, who this year won his first Oscar for his portrayal of a frontiersman in "The Revenant," spoke in his role as UN Secretary-General Ban Ki-moon's "messenger of peace with a special focus on climate change."
The 41-year-old celebrity returned to the United Nations after delivering a much-watched address to world leaders during a UN climate summit in September that set the tone for the Paris accord.
DiCaprio said the record turnout at the signing ceremony was a sign of hope, but he argued that sticking to the Paris agreement would not be enough to confront climate change.
"An upheaval, a massive change is required right now, one that leads to a new collective conscience," he said.
"Our planet cannot be saved unless we leave fossil fuels in the ground, where they belong," he said, drawing applause from the chamber.
"Look at the delegates around you," he added. "It is time to ask each other what side of history will you be on."
"After 21 years of debates and conferences, it is time to declare no more talk, no more excuses, no more ten-year studies, no more allowing the fossil fuel companies to manipulate and dictate the science and policies that affect our future."
Edhi: The Man Behind Pakistan's Largest Welfare Organisation
Stay tuned to Brandsynario for more updates!