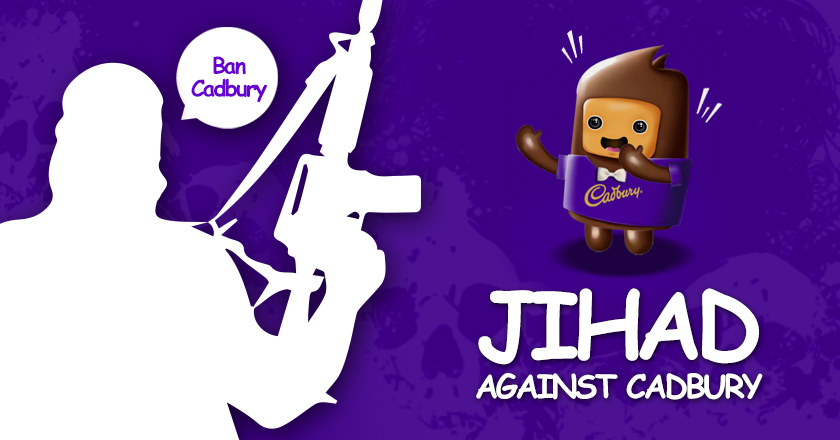 By Zenub Ayaz
Malaysian Muslims have declared jihad against Cadbury, after pork DNA was found in its products.
However Malaysian Islamic Development Department has suspended the halal certification of the two Cadbury products – Cadbury Dairy Milk Hazelnut and Cadbury Dairy Milk Roast Almond that were involved in the controversy.
20 Malay-Muslim organizations claims a holy war after the batches of Cadbury Dairy Milk Hazelnut andCadbury Dairy Milk Roast Almond tested positive for dashes of swine DNA.
The colossal chocolate hub, Cadbury asserts that they have recalled the product as soon as they were informed of such ailment.
The point to ponder is that, Cadbury being the colossal confectionary hub, ranked second largest in its sector, still couldn't strive a day without thinking about cost cutting. Although their latest move of using porcine traces didn't really turnout to be a 'wealth bringer' rather cause quite a chaos in Malaysia.
Plus without a doubt it could be predicted that their "sin" would not that easily be forgiven or forgotten by all their devoted Muslim consumers.
Cadbury Malaysia alleged that they have been informed about the porcine traces through the test carried out by the Health Ministry.  They further claim that the company gets its products certified halal, matched with the standards of Islam's dietary restrictions and that a review of the supply chain is being carried out.
Whereas Cadbury UK has subjugated that the porcine DNA issue was entirely confined to Malaysia
A news conference regarding the matter was held in Kuala Lumpur. The agenda of this news conference was to come up with an action plan to deal with Cadbury's grave depravity. The organizations which partook in the conference included Muslim Consumers Association of Malaysia (PPIM), Perkasa, Pertubuhan Kebajikan Darul Islah Malaysia, Ikatan Muslimin Malaysia and the Halal Muslim Entrepreneurs' Association.
Ustaz Masridzi Sat, one of the group presidents blamed current frenzied state of Malaysia on Muslims' consumption haram food. He further talked about his religious believes concerning the matter as continued his dialogue.
He added, as the person eats pork it is difficult to guide him to the right path.  Also at the Day of Judgment such a person would be wearing a pig-face. Ergo we must unite, we must proclaim jihad.
One group lead, Abu Bakar Yahya, came up with a perception that pork traces were used to weaken the sturdiness of our religion and weaken our faith. Another mastermind thought of a national boycott on the Cadbury's products. He proposed that all their factories must be immediately shut down.
Cadbury, the chocolate giant took off in 1824 when John Cadbury opened a grocer's shop  where he sold cocoa and drinking chocolate. Cadbury went from one minor shop in Birmingham to becoming the second largest confectionery brand in the world after Wrigley's.
The firm embraced its iconic purple and gold packaging and 'glass and a half' emblem for Dairy Milk in the 1920s.
Later, Cadbury merged with Schweppes to encourage further expansion. After Cadbury and Schweppes detached in 2008, Cadbury joined hands with Mondelez International. And today it is pronounced as the second largest confectionery brand in the world after Wrigley's. It has its headquarters in Uxbridge, London, and operations in more than fifty countries worldwide