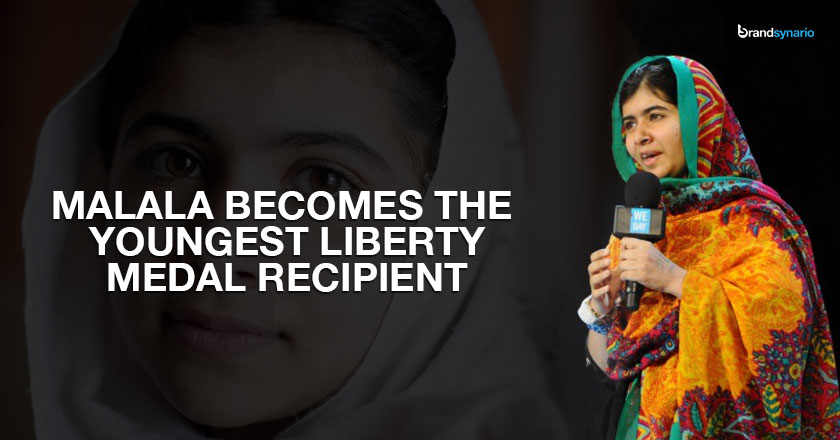 The young education campaigner, Malala Yousufzai, being the youngest recipient of so many awards will now receive National Constitution Center's 2014 Liberty Medal at a ceremony at 26th annual Liberty Medal ceremony on October 21st 2014.  
Using the pen name Gul Makai, she often spoke about her family's fight for girls' education in her community and angered the fundamentalist group by writing about life under the Taliban for the BBC.
Yousafzai was just 15 when she was shot in the head while returning from school in Mingora, Pakistan, in October 2012. 
For her outspokenness and continued demonstration of courage and resilience in the face of difficulty and for serving as a powerful voice for girls' education in her community, she will now receive the Liberty Medal.
"It's an honor to be awarded the Liberty Medal,I accept this award on behalf of all the children around the world who are struggling to get an education.", said Malala
The medal has been awarded annually since 1989, the first one to receive is Polish Solidarity founder Lech Walesa. Since then, recipients have included boxer Mohammad Ali, former US President Jimmy Carter, and, last year, the-Secretary of State Hillary Clinton.
"Every day, around the world, individuals like Ms. Yousafzai are being threatened for asserting the same fundamental rights of speech and religious conscience that are inherent in all people," said Jeffrey Rosen, the center's president and chief executive officer.
"Yet she is undeterred in her quest. She is an inspiring voice for liberty across the globe."
Malala is the youngest person ever nominated for a Nobel Peace Prize and