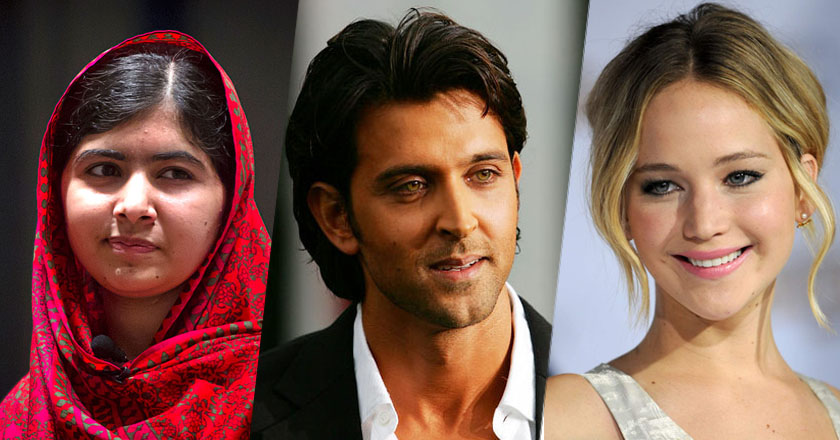 Malala Yousufzai, Hrithik Roshan, Jennifer Lawrence along with other global celebrities have extended their support for Global Goals Campaign; an initiative taken by United Nations and giving an exclusive chance to everyone to share a screen with their favorite celebrity by being a part of this campaign.
Read More: Pakistan to have 300Mn+ Population by end of 2050-UN Report
Launching on September 25, the campaign will also unveil a crowd-funded film 'We The People' which will be screened on 26th September at Global Citizen Festival New York. In this film, one can add their voice alongside the renowned celebrities including AR Rehman, Ashton Kutcher, Cate Blanchett, Daniel Craig, Jennifer Lawrence, Jennifer Lopez, Kate Winslet and Robert Pattinson.
The initiative's goal is to "create the world where hope is something you can reach out and touch". In order to achieve this, 17 smaller goals have been identified which are posted on their website and highlighted in the promo of this movie.
Watch the Global Goals video here.
[fb_embed_post href="https://www.facebook.com/globalgoals.org/videos/vb.1411122042516798/1490665067895828/?type=2&theater/" width="550″/]
The heartthrob Hrithik Roshan promises Good Health whereas the pride of Pakistan Malala will support Quality Education. Standing for gender equality are Jennifer Lopez and Jennifer Lawrence  while Stephen Hawking vouch that innovation and infrastructure will make our lives better.
'We the people' needs you – support #Hrithik in this #GlobalGoals initiative (Watch from 1:03) http://t.co/UfFqQRL8j2

— HrithikRules.com (@HrithikRules) September 5, 2015
Many of the world's superheroes like UN Messenger of Peace Lang Lang, UNDP Champion Michelle Yeoh, Her Majesty Queen Rania Al Abdullah of Jordan and Stephen Hawking have also endorsed the project.
If you want to share a screen with your favorite celebrity, all you need to do is to read the lines and film yourself. Once done, upload the footage. All these entries will be edited and the video will feature as many different faces and voices as possible. Details here.