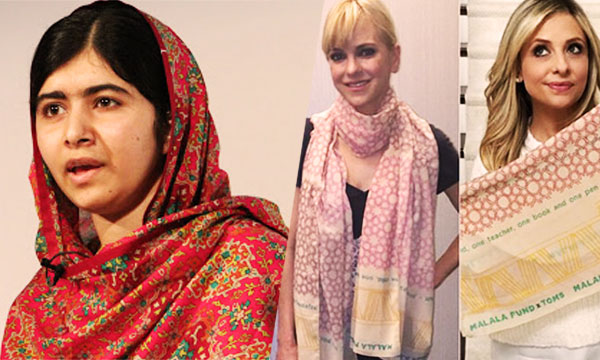 Malala Yousafzai is doing her best to empower young girls, and this time the 18-year-old global education advocate has joined hand with the popular fashion house, TOMS to support girls education and enable girls to complete 12 years of safe, quality education under the banner of 'Malala Fund'.
The brand TOMS is no stranger to charitable causes and this time, they are very much excited to be a part of the Malala Fund Campaign.  The owner of the brand, Blake Mycoskie expressed his enthusiasm about the collaborative charitable effort."I am so proud to be partnering with the Malala Fund, and the entire movement that was inspired by Malala," he gushed.
The popular fashion house has introduced a special edition Malala Fund x TOMS scarf for $48 each; the proceeds will directly go to the Malala Fund.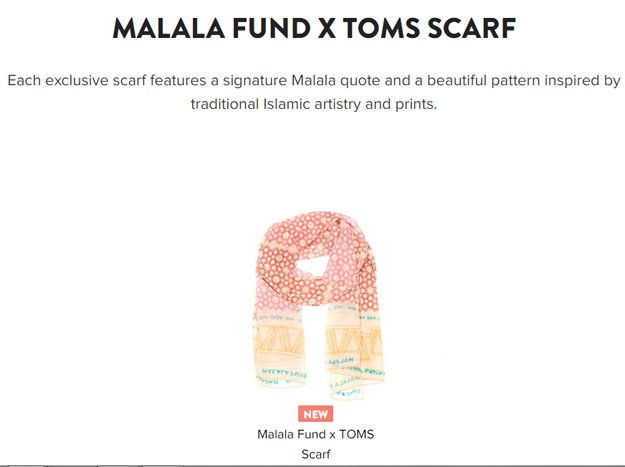 Celebrities from Hollywood have already started showing their support for the cause by wearing it. Celebrities like Anna Faris, Sarah Michelle Gellar, and Octavia Spencer are amongst many celebrities who are showing support for the noble cause by wearing the iconic scarf. They are "creating a community and conversation around it," Blake said.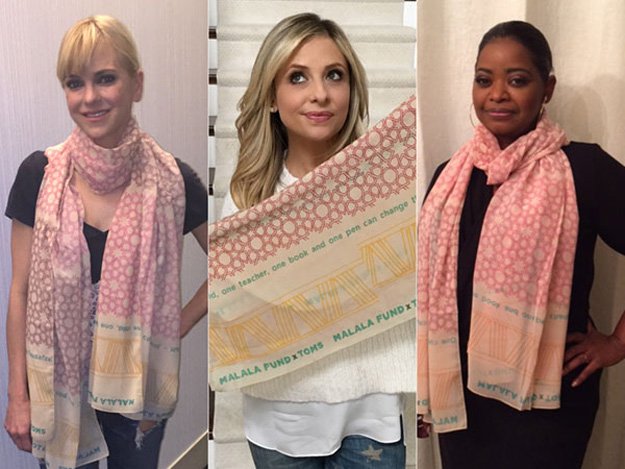 The scarves have been designed in pretty and bold colors with Islamic artistic patterns accompanied with a unique Malala quote on each statement piece.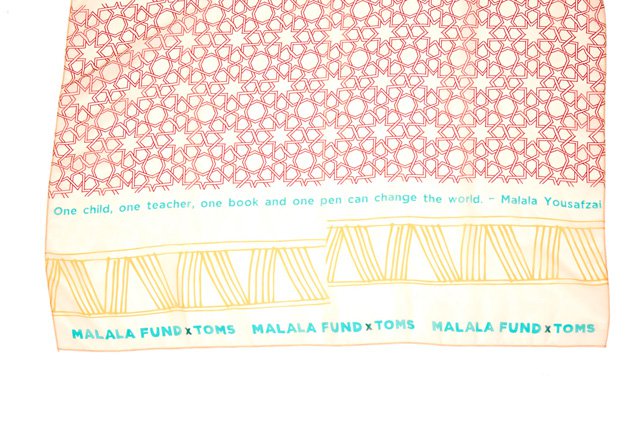 He also said, "Too often young girls can't go to school because they must work, or they have to marry, or many times there is too much violence around their schools."
"This movement is committed to supporting the rights of all girls globally to have access to 12 years of safe and quality education. All of us at TOMS are honored to be able to partner with the Malala Fund and help provide education to girls around the world."
Malala's Blood-Bathed Uniform Showcased by Nobel Peace Centre
"It's a scarf that girls and women can wear all over the world from the US to Pakistan, whether as a fashion accessory or a beautiful headscarf (hijab)," exclaimed an excited Malala while giving her interview to PeopleStyle.
"Any girl or woman can wear it, however, she wishes to show her support for girls' education globally. But most importantly, TOMS is giving 100 percent of the profits from every scarf to the Malala Fund to empower girls through education and I am so grateful for that," she further commented.
Stay tuned to Brandsynario for more updates.