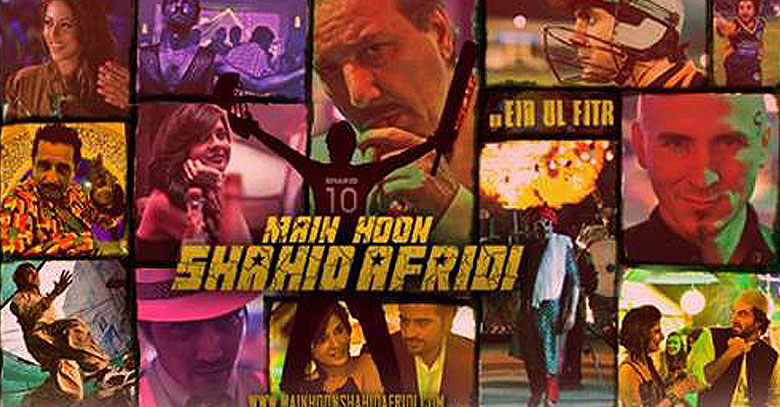 Humayun Saeed's first big screen venture, as a Producer, which was supposed to be based on the life of the most 'unpredictable' super-star of the country, Shahid Afridi. The action-packed feature film MAI HOON SHAHID AFRIDI(MHSA) is proving to be more like the superstar, than Humayun Saeed (the producer) might have intended.
The movie was earlier announced to be released on the EID UL FITR, however was later delayed just before EID for more than one reasons.
First, the sad demise of Azam Khan, the famous film editor who was an integral asset to the movie's post production and then the release of 'Chennai Express' that would have coincided with MHSA's release dates. Wasay Chaudhry, the writer of MHSA opened up recently by publically admitting that MHSA officials did not want to directly compete with a high budgeted Shah Rukh Khan movie.
However, it was Shahid Afridi's statement which made the headlines this Wednesday, in which he expressed his dismay over an obscene scene.
Shahid Khan Afridi belongs to an Afridi tribe of Khyber, famous for their conservative traditional values. Therefore his repulsiveness is not uncanny, as the boy depicting Afridi in the movie 'is shown kissing a lady in a night club'.
"I had given permission for the film with an aim to give kids some positive healthy entertainment, to divert their minds towards cricket and it should not have obscene things" said the angry Afridi.
Famously known as 'Boom Boom', Afridi made his debut in 1996 as a leg spinner in cricket at the age of 16 and shot for the moon with his famous fastest century of only 37 balls (the record stands invincible in its 17th year). Afridi has a massive fan following all over the world, of all age-groups; therefore his resentment over any ill representation, using his name, is understandable.
"I want to tell the people that the film is not related to my life" – Shahid Afridi
Humayun Saeed, the actor turned producer of the movie, initially intended Afridi to star in the movie as the lead himself, however Afridi turned down the offer primary for the same standards of his inherent tribe.
Later the movie received a lot of hype for its Bollywood inspired trailers and conversion Item songs, starring controversial Mathira and Mahnoor Baloch. One can only imagine Afridi's reaction when he sees the sultry performance.
The movie is finally announced to be released on 23rd August, 2013. Let's hope it sees no more controversies than it already has.
For now, the movie that was intended to be a helping hand in reviving Pakistani Silver Screen is being abandoned by the man on the cover photo.