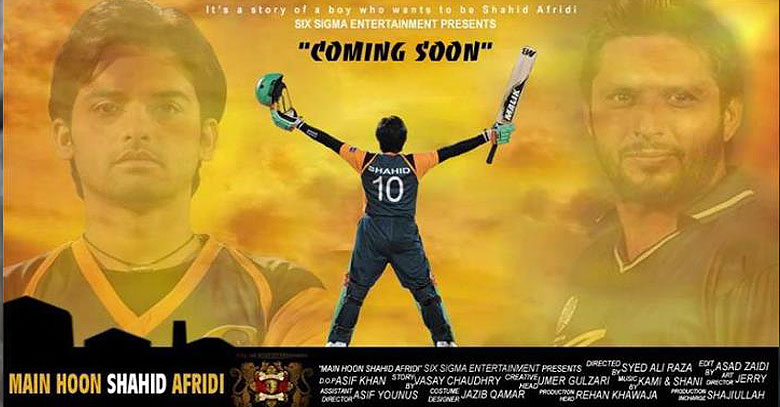 Pakistani films lost their charm a few decades back, and since then the cinema reached its creative death and stood almost but over. The reasons behind the breakdown of the industry were numerous; lack of technical crew, absence of infrastructural support and the overwhelming influence of Bollywood.
But that's not the end of it. The new age cinema has started spreading its wings thanks to young upcoming film-makers, whose love for the art of storytelling hasn't diminished regardless of the hitches that come with pursuing a profession in film-making in Pakistan under current circumstances.
A lot of efforts have been made in the regard, BOL, Khuda Kay Liye, upcoming movies like WAAR and Josh, along with Main Hoon Shahid Afridi, are worth mentioning.
Main Hoon Shahid Afiridi, a debut film of Humayoon Sayeed as a producer, is a first of its kind movie in Pakistani Film industry being named after a renowned cricketer, Shahid Khan Afridi.
The movie has a budget of PKR 100,000,000, with script written by Vasay chaudhary and direction of Syed Ali Raza Usama, starring Humayoon Sayeed, Mahnoor Baloch, Jawed Sheikh, Nadeem Baig, Annie Jaffri and Noman Habib.
There are numerous factors which could contribute to the success of the project on the box office, from the intended attraction for the millions of cricket-loving Pakistanis promising a hint of a peek into their national player's success story to the dazzle of new stars along with the elegance of the older ones, studded in the movie.
On the other hand, there is a perception that MHSA is getting much more hype because of the indirect Indian influence the movie has, as its producer has acted in some low budgeted Indian movies.
Saeed declared that it would have been convenient for him to make a shaadi biyaah type of a film with songs, drama and dances, which is as much our style of cinema as it is our neighbor's, but he always wanted to pay tribute to one of our own Pakistani stars in their life time.
The movie is scheduled to make its premier on Eid ul Fitr. Now what's left to see is ,whether the 'new-bees' would revive the long lost magic of the silver screen or would it just be another lost cause. Most importantly what would be Shahid Khan Afridi's take on a $1,000,000 movie encircled around his name?
To set gossips and facts apart, the entire nation has its fingers crossed, along with the cast and crew of the project, awaiting the movie's preview eagerly.