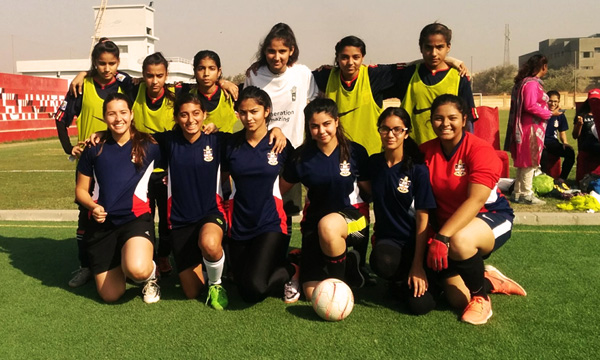 In the finals held on Sunday 17th January, Foundation Public School (FPS) was defeated by the Lyceum School and emerged victorious in the Karachi United Schools Championship (KUSC).
Both the teams must have given each other a tough game as the match ended 0-0 and teams were given penalty kicks. That was when the game changed, Abdullah Yousuf, goalkeeper for the Lyceum team saved  three penalty goals and led the team to victory.
Previously, Lyceum qualified for the finals after beating Sensorium School by 2-1 whereas the last year's favourite winning team from Nixor College lost to FPS in a surprising turn of events by 3-1.
[fb_embed_post href="https://www.facebook.com/karachiunitedfc/photos/a.384263662911.167526.16552212911/10153553695922912/?type=3&theater/" width="550″/]
However, the Lyceum School was beaten out by Karachi Grammar School in the KUSC girls' final match by Soha Hirani, named best player of the tournament.
Abbas Zaqi from FPS and Abdullah Chip of Nixor College scored 6 goals respectively and were awarded the titles of best goalscorers whereas Lyceum's Sharez Taqi won the best player award.
Lyceum team's coach, Arshad Jamal was bestowed with the best coach of the tournament award.
Around thirty-two schools and colleges were a part of the KUSC tournament who participated from all corners of Karachi.