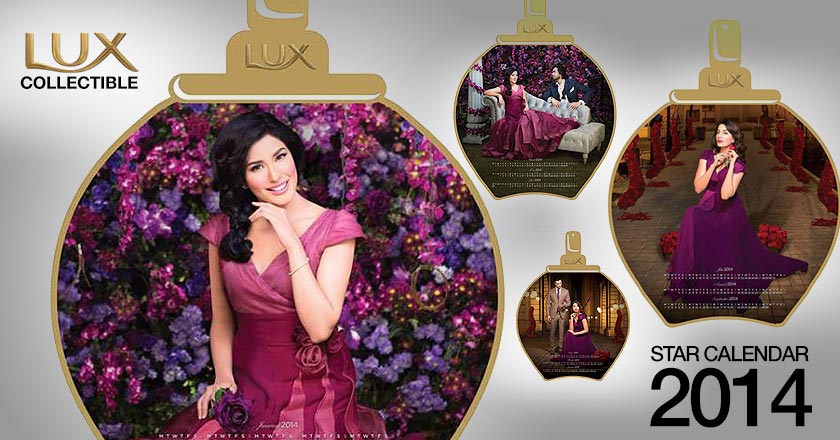 By Zoya Anwer
The premium soap brand in Pakistan, Lux has revealed its first ever celbrity calendar for 2014.
The launch event was held recently at the Lahore Grande where the event was full of gleaming celebrity stars strutting around in the magnificent aura.
Being forever synonymous with the fashion and entertainment industry, Lux has always tried to promote it in an innovative way like it has so gracefully done in the past 10 years by holding the leading award ceremony, Lux Style Awards.  
The calendar, shaped like a bottle of perfume symbolizes the deep rooted relationship between Lux and enchanting fragrances of the soap. This "four-page spread" is actually a shout-out to all the beautiful women who use the product and believe in ultimate beauty.
  The ever charming TV host/actor, Fahad Mustafa, stunning Mehwish Hayat, the very beautiful model, Rabia Butt and strikingly handsome, Emaad Irfaani are the four celebs who are captured in romantic settings.
Model Emaad Irfaani, who has been a part of previous Lux advertisements expressed his gratitude saying, "Being featured in a Lux campaign for the second time, I can officially call myself the Lux boy. Working or Lux means that you are one of the most prominent faces in Pakistan."
The impeccable photo shoot was done by the famous fashion photographer duo of Guddu and Shaani and the very classy attires were designed by none other than Kamiar Rokni who had created them solely for the photo shoot's purpose.
The Brand Manager of Lux, Enshe gave further details by saying, "The basic point of the calendar is to add a touch of glamour to life. For this calendar, we used stars from both TV and the fashion industry as we believe these two are the biggest industries that cannot be ignored. The fragrance value of Lux has been visualized through these pictures."
Some notable celebrities present at the launch event included the designer HSY, Kamiar Rokni, Fahad Hummayon, Kuki and Mohsin Ali stylists Khawar Riaz, Natasha Saigol and Babloo singers like Amanat Ali, Goher Mumtaz, socialite, Yousaf Salahuddin, models Emaad Irfaani, Xille Huma and Nooray Bhatti,
The photo shoot was also displayed in an art gallery and a special photo booth was set up for the guests too.