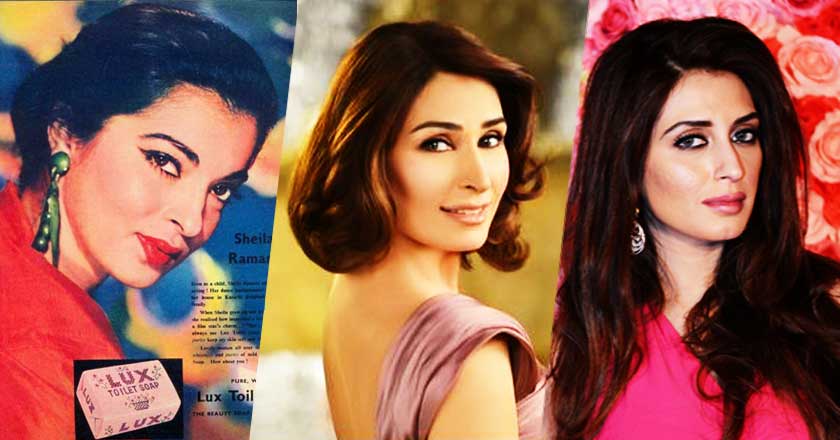 Lux, the soap which stands for sophistication, beauty and glamour, has been in the market since the early 19th century. If we look at the history, Lux has evolved so much in all the years but there is one thing which has always been the same; the celebrity endorsements. Lux has been endorsed by almost 50 of the leading lady stars.
The brand has always been endorsed by the Lady stars, and some very few male stars, who represents beauty and sophistication.
Don't believe us? Have a look at the Top 10 Pakistani celebrities to endorse Lux which will change your view on the brand completely.
Sheila Ramani
Sheila Ramani was a notable actress in both India and Pakistan. Born in Sindh, Ramani was crown Miss Shimla in the early 1950's. She played a lead role in some Pakistani films as well and endorsed Lux in 1955 in an Urdu newspaper. Ramani was known for her impeccable beauty and distinguished acting skills.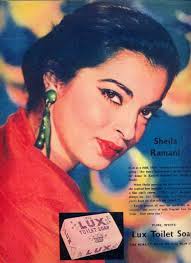 Babra Shareef
The superstar of mid-80s Pakistani cinema, Babra Sharif became the talk of the tinsel town after her famous Lux endorsement with the tagline, 'Aakhir loag hamara chehra he to deiktay hain'.  The commercial, released in the early 90s re-established her as the superstar of the era, after her long hiatus from the film industry.
Watch her Lux ad here:
[iframe id="http://tune.pk/player/embed_player.php?vid=6332102&folder=&width=600&height=350&autoplay=no"]
Ali Zafar
Rockstar Ali Zafar was the first Pakistani male model to endorse the soap. His famous song 'Dekha Jo Teri Ankho Mai' was done as an endorsement for the brand along with other female models like Meera.
Watch the video here:
[dailymotion id="x1w55uu"]
We think that the song went well with the Brand identity at that time which was 'Deewana Bana De' and the video also piqued the interest of the viewers. Also, Ali Zafar was at his peak time at that time, therefore, associating the brand with him also aided the brand recall.
Reema Khan
Reema Khan, known by her screen name Reema, is a Pakistani Lollywood film actress, director and producer. She has appeared in more than 200 films since making her debut in 1990 and have been recognised by Pakistan and Indian film critics for her acting. Reema appeared in 'Lux Gold Coins' TVC along with three other beauties from the industry.
Take a look at Reema in the commercial for LUX back in 2012:
Take a look at the Behind the Scenes Video of Reema shooting another LUX commercial as well:

Meera
Irtiza Rubab, born on 12 May 1977, better known by her stage name Meera, is a Pakistani film actress, television presenter, model and leading philanthropist. Meera has a huge fan following and she endorsed the soap with the tagline '10 Ka Jalwa' in 2014.
Take a look at this Ad for LUX which features Reema, Meera, Humaima & Mahira Khan:
Humaima Malik
Humaima Malick, a Pakistani actress and model who appears in Pakistani and Bollywood films and serials, has endorsed Lux soap with the tagline 'Bus Zara sa Lux'. Since, Humaima has been riding high on his career bandwagon for now, I am sure her endorsement would prove to be fruitful for the brand.
Take a look at Humaima featuring in Lux Ads:
[fb_embed_post href="https://www.facebook.com/LuxPakistan/videos/10152924654360273//" width="550″/]
[fb_embed_post href="https://www.facebook.com/LuxPakistan/videos/548740958520646//" width="550″/]
Mehwish Hayat
Jawani Phir Nahi Aani actress, Mehwish Hayat is known for her beauty and good looks in the industry. Her distinct acting skill is a plus point too. She endorsed Lux in 2013. She was the main face of the calendar photo shoot for Lux
Read More: Lux Reveal First ever Calender Photoshoot
Aamina Shaikh
The recipient of Lux Style Award, Aamina also endorsed the brand at one point. Her fan following in the country knows no bounds and she is known for her versatile career base.
Take a look at Aamina's Endorsements for Lux:
[fb_embed_post href="https://www.facebook.com/LuxPakistan/videos/546502045411204//" width="550″/]
[fb_embed_post href="https://www.facebook.com/LuxPakistan/videos/550118995049509//" width="550″/]
[fb_embed_post href="https://www.facebook.com/LuxPakistan/videos/548273108567431//" width="550″/]
Fawad Khan
The first Pakistani male star to endorse Lux, Fawad Khan, is the king of every girl's heart in Pakistan. Fawad Khan has been seen in Lux adverts with Mahira Khan and Iman Ali. With his extraordinary skills and his to-die-for looks, Fawad endorsing Lux would definitely make me give it a try!
Read More: Fawad Khan to Romance Kangana in Mr Chalu?
Mahira Khan
Mahira Khan, the epitome of beauty, also approves of Lux as her beauty secret. Do we have any reasons to not believe what the brand promises now?
Read More: Mahira Khan's Interview: 10 Unknown Facts About Mahira Khan
Iman Ali
Iman Ali made her Lollywood debut in the Pakistani thriller 'Bol' and has been the fan's favorite ever since. She also accredit Lux as her beauty soap and appeared in a TVC alongside the handsome Fawad Khan!
Take a look at the Ad and some of the shots from the Ad:
[fb_embed_post href="https://www.facebook.com/LuxPakistan/videos/756020211126052//" width="550″/]
[fb_embed_post href="https://www.facebook.com/LuxPakistan/videos/756764231051650//" width="550″/]
Iman Ali has been a celebrity face for LUX since a very long time, before her TVC with Fawad Khan. Take a look at these vintage Ads where Imaan Ali has endorsed LUX. These videos will surely send you down the memory lane:
[vimeo id="68116593″]
[vimeo id="68116638″]
Read More: Fawad Khan and Iman Ali in Lux Latest Commercial
Now that you have a list, which one amongst them is your favorite and why?