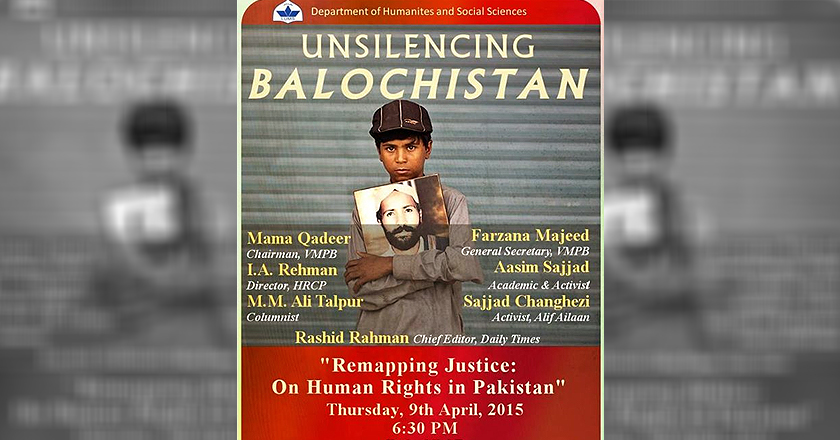 LUMS, haven for our open minded countrymen, recently scheduled a talk evening featuring Baloch human rights activist Mama Qadeer. However, the university was forced to cancel the event, as per unverified reports of pressure from government officials.
According to LUMS faculty member, Dr. Taimur Rehman, "It's a violation of academic freedom and a curb on freedom of speech."
Abdul Qadeer Baloch, known as Mama Qadeer, is the founder of a group working for information on people who have "disappeared" during the long-running conflict between the government and Baloch separatist movements.
Titled 'Un-silencing Balochistan', the talk was scheduled at the university featuring guest speakers Mama Qadeer, activist Mohammed Ali Talpur, Human Rights Commission of Pakistan Director IA Rehman, Secretary General Voice of Baloch Missing Persons (VMPB) Farzana Majeed, Quaid-e-Azam University Professor Aasim Sajjad Akhtar and rights activist Sajjad Changezi.
"A delegation from the Inter-Services Intelligence (ISI) visited LUMS in the evening and presented a letter calling for cancellation of the talks. They said that Balochistan is a sensitive issue and that the moot could be used to malign Pakistan," said Dr Rehman, adding that the intelligence officials were firm in their directive.
"The talks were aimed at understanding the Balochistan issue and discussing ways on how to resolve the longstanding problems of the Baloch people. It was supposed to be an academic discussion, which was muzzled for no good reason."
The talk was to be moderated by Rashid Rahman, the editor of Daily Times. However, a couple of hours before the conference, the university cancelled the event.
Outraged, Twitter users in Pakistan took to bashing LUMS for crumbling under the pressure:
@faizan1821 Kashmir is different from Baluch, can't be compared, #BanLUMS #ShameOnLUMS for ant ISI and anti Stare activities @AsimBajwaISPR

— Omer (@omerfateh) April 9, 2015
ISI threatens #LUMS 2cancel talk on #Balochistan feat. MamaQadeer etc. Kyon? #Army kya chupa rahi hai? #ShameOnLUMS pic.twitter.com/jjVHKAktLq

— Wholly MalaFide (@IAmMalaFide) April 9, 2015
Reporting on #Balochistan is already banned now talking #Balochistan is not allowed on land of 5 Rivers #ShameOnLUMS pic.twitter.com/EeFbWFlUB5

— Dawood Khan (@_dawoodkhan) April 9, 2015
#ShameOnLUMS for providing a platform to thos who deserv to b killd & dumpd in thr own streets in front of thr chldrn.#MissingPersonsDrama

— Saira Khan (@sairakhan55) April 9, 2015
Protests across #Balochistan to be held against LUMS for trying to prove Baloch people disloyal #ShameOnLUMS pic.twitter.com/pUBYq16uiu

— Aisha Baloch (@AyishaBaloch) April 9, 2015
So in #LUMS logic, TTP are terrorists while BLA and their cheer leaders are 'human right activists'. #ShameOnLUMS

— Pakistan Defence (@defencepk) April 8, 2015
#ShameOnLUMS for not inviting Zaid Hamid or @AQpk. As they are the only true patriots. Lums kya mama lagta hai Mama Qadeer ka?

— Ammar Zafarullah (@AmmarZaf) April 9, 2015