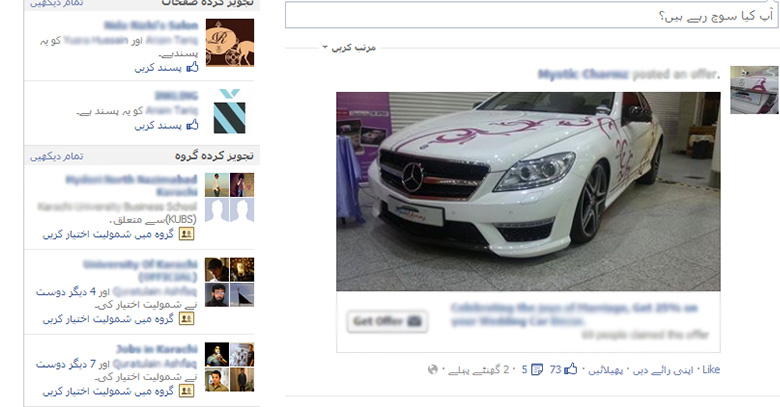 For those who are more comfortable with this language of poetry, Facebook is now available in Urdu.
Facebook users, especially the ones in Pakistan, can now officially set Urdu as their preferred language on the portal. Facebook previously supported many languages; however URDU is the most recent addition to the existing lot.
URDU language's induction was achieved after the Facebook team concluded the translation of 'every modules of the social networking website' into Urdu.
For the aforementioned purpose the facebook users, familiar with Urdu, also contributed hugely thus the language was recognized as an official language.
To set Urdu as you primarily preferred language; simply follow these steps:
1. On your Facebook Home Page, look at the bottom of the right panel – There, below the 'Pages You May Like', 'Games You may Like' etc there is a tab that says,
Facebook © 2014
English (US) • Privacy • Terms • Cookies • More
2. Click on the English (US), and wait.
3. The page that is now on your screen, Find and Click on 'Urdu' 
Now, you can enjoy your favorite social networking website in your own mother language. Even, if you are more content with English, We suggest you at least give it a try, once.
It is always fun to read, 'Safa Pasand Karein', 'App Kya Soch Rahe hain', 'Saffa ishtaraq karein' and mind boggling word Facebook chose to translate 'Home' in. Can you read what that word is and what it means?