Maggi lovers live in a world of their own, and when it comes to their favorite snack, there is no stopping them. They can combine maggie with anything or anything and come up with a bizarre recipe or, in this case, a totally genius one. Regardless of how it tastes, we have to give credit to the founder of this Noodle Pizza recipe.
Noodle Pizza 
If you are a Maggi lover, then try this ingenious recipe to tantalize your taste buds. Here is everything you need to prepare it.
Read More: This Maggi Pani Puri Is Going Viral & We Can't Unsee It
Ingredients 
2 Packs of noodles
1.5 cup of water
Chopped Coriander
2 tbsp of cornflour
2 tbsp oil
3 tbsp Pizza Sauce
Mozzarella Cheese
Toppings
Chopped Onions
Sliced Capsicum
Corns
Tomatoes
Oregano
Olives
Instructions 
Take a wok, add 2 packets of noodles, add 1.5 cups of water, noodle masala, and let it cook until it becomes 80% done.
Now, add some chopped coriander and parsley. Once the noodles are 80% done with some water, switch off the flame because we don't want to overcook it.
To make it crispy, add 2 tbsp of cornflour and mix it with 2 folks gently, make sure that there are no lumps in it.

Image source: https://www.checkmyrecipe.com/

Now, heat the non-stick pan, and as it gets hot, add 1 tbsp oil and spread it evenly. Spread the oil with a brush and now add the prepared noodles mix into it.
Spread this noodle mix with the help of folks into a round shape. Make sure the noodles bind and stick together; otherwise, it will break while flipping it.
Now, add 1 tbsp oil of its surrounding and cook it for 3-4 minutes at medium flame until it gets golden color from the bottom and then flip this and cook it from another side similarly.
Apply 3 tbsp pizza sauce or Red Chilli Sauce on top of it and spread it evenly.

Image source: https://www.checkmyrecipe.com/

Add mozzarella cheese and spread it evenly, followed by some chopped onions, capsicum, corns, Tomatoes.
Now, cover it with a lid and cook it for 4-5 minutes on medium flame.
The Homemade Maggi Pizza Recipe is Ready to Serve. Top it off with spices like oregano and cut it into pieces.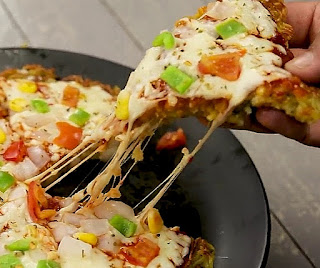 Stay tuned to Brandsynario for the latest news and updates.