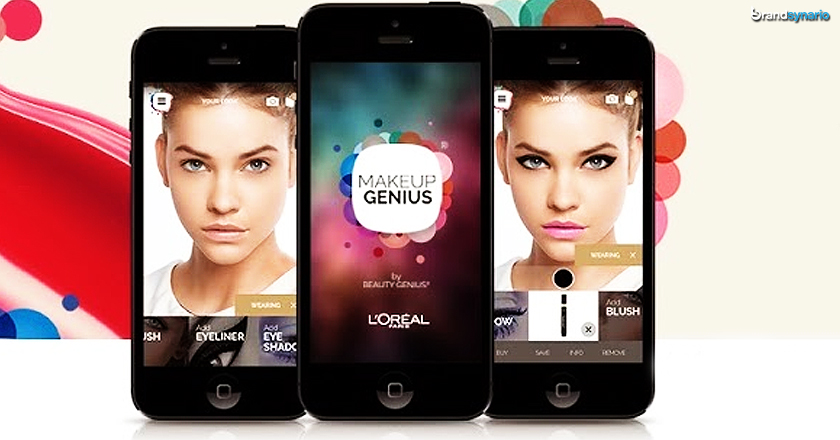 By Zenub Ayaz
L'Oréal the cosmetic giant has launched a mobile app–MakeupGenius – which promises to provide the users free advices and L'Oréal 'A whole lotta money'.
The fashion Giant has not only penetrated the digital network and discovered a new revenue stream, it also has found a way to promote itself without adding to the existing advertising clutter. Makeup Genius gives expert advices to its users by customizing itself to their features. Thus, targeting the inborn insecurity in the easily intimidated majority of our times – who wants nothing more than to 'cover up their God's slip-ups',Loreal has targeted their customers wisely. The app eventually defines which L'Oréal make up product one should use to make themselves look better.
Make-up Genius is planned to be made available on the Apps Store, but last I checked there was no news of its release on Google Playstore. Basically the app lets you to try on loreal'smakeups range from its virtual shelves by using your picture, thus transforming your smartphone's camera into a make-up mirror.
The process goes like this, you have the entire makeup range available and the app uses the snapshot of your face and applies your selected shadow, blusher or lipstick in all the right places. With navigation from the L'Oréal Makeup Genius map, the app identifies the difference between the skin under eyes, lips and face. Whereas being non-racist, it also works on different ethnicities with different skin tones,provided with 400 lighting situations.The beauty stores in US will be installing L'Oréal'sColor Genius app on digital terminals, so the buyers could try the app before they download that too.
Previously in Japan, this app stunt was pulled by another local cosmetic company named, Shiseido. They named the app Mirai Mirror, which used a moving image of user's face to try on different colors before buying.
This app to me would be a life saver, not only for the ladies themselves but also for others, who have to come in contact with such makeup disasters, Makeup genius would help taming those harsh blusher strokes, white foundations on dark skins which made them look grey skinned, thick and heavy eye liners, which made most of the girls look like Morticia from the Adams Family, for them the savior is here! Finally…one could expect lesser make-up adversities.The amount to pay is TBC but as it will provide some damage control to your pocket, shrink your beauty bill, so yeahh it's worth it.