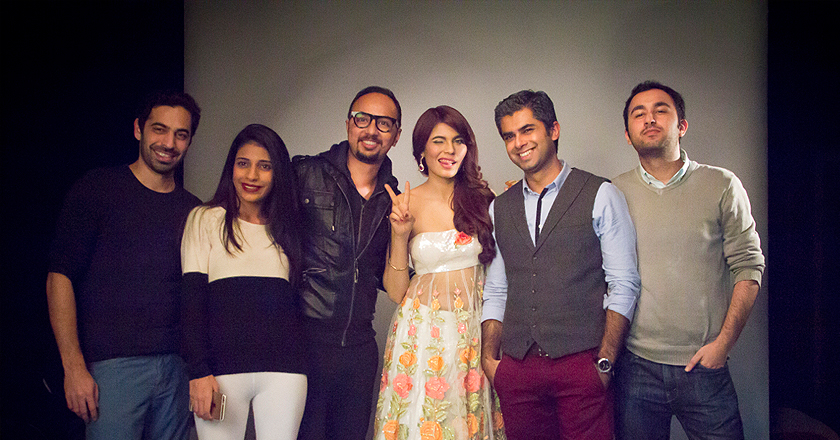 By Pashmina Zulfiqar Ali
LOreal Paris, the world's leading beauty brand in collaboration with Nomi Ansari, has introduced 'Ambassador of Fashion' platform on 20th January 2015. 
This fashion collaboration is about engaging 'Loreal Paris Excellence Crème – Ambassador of Fashion' with Pakistan's fashion dynamics, while keeping beauty and fashion trends in the forefront.
To complement the luxury hair brand's new Gemstone Shades, Loreal Paris Excellence Crème – Ambassador of Fashion has collaborated with master couturier Nomi Ansari to set a trend.
Saba Ansari Hair Color & Styling artist of Sabs Salon, model Amna Babar and photographer Nadir Firoz Khan of NFK Photography lent their expertise to the photo-shoot of the collection and created a signature Loreal Paris 'Beauty meets fashion look', which is soon to be released in print media in February 2015.
Moreover  the brand will also be introducing some additional collaboration with diversified brands within the fashion and lifestyle industry.
Developed with an exclusive mix of cool and warm pigments, the new range comes in three gorgeous Andalusite Brown Shades, while providing triple protection. The three distinct shades include: 4.3 (Golden Chestnut Brown), 5.3 (Golden Light Brown) and 6.7 (Chocolate Brown).
"The 'Ambassador of Fashion' platform from Excellence Crème is a remarkable way of blending fashion and beauty. We came up with three looks, very sensual and elegant, to complement the Gemstone Collection from Excellence Crème. Certain things we kept in mind – it has to be beautiful, it has to be gorgeous and it has to be very current!" said Nomi Ansari on his collaboration with the L'Oréal Paris Excellence Crème and the Gemstone collection.
The new hair color kit is available for PKR 1,049 at all leading retailer stores.