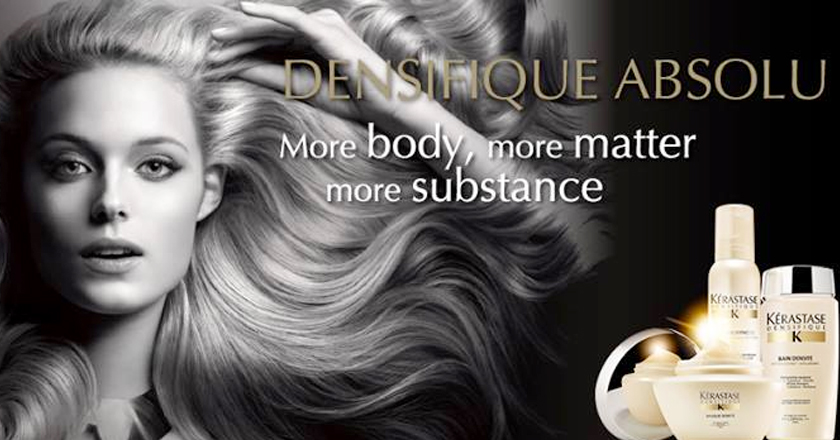 If you've been looking for ways to make your hair denser, thicker and more luxurious, Kérastase Densifique has the solution for you. This luxury hair care brand by L'Oreal has now been introduced in Pakistan and it promises to increase hair density from the very first application.
Previously, L'Oreal introduced its Kérastase range in Pakistan, for all hair types.
After 10 years of research, Densifique works on growing hair and increases the number of hairs per square centimeter. It focuses on the skin of the scalp, and optimizes hair cycles resulting in denser, more voluminous hair with an improvement in texture.
The product is available in Pakistan at all salons that carry the Kerastase brand. In Karachi it can be found atNabila's, Sabs Salon, Mubashir Khan, Nina Lotia and Hina Y.
In Lahore it is available at the Kerastase flagship store, Split Ends by Ruby, Arammish, Robert Alexander salon and other salons that carry ranges for Kérastase.
[fb_embed_post href="http://facebook.com/..https://www.facebook.com/KerastasePakistan/videos/vb.776481899052174/985720014795027/?type=1&theater/" width="550″/]
The initial ritual costs Rs 4,500 and is done at the salons after a consultation. This is to be followed by a home ritual where ampules can be purchased for the month. The total monthly cost would be around Rs 15,000. Additionally the Karastase Densifique shampoo is also available at salons for Rs 2700.
All products come with a signature scent made with pink flowers, amber and wood designed by Takasago perfumer Dominique Gindre.
The improvement in hair density occurs over different stages:
First Application
From the very first application, a slight increase in hair density is noticeable
After 10 days
The hair fiber is thicker and more resistant
After 30 days
Hair growth is reactivated and the hair looks visibly fuller and denser
After 3 months 
An increase of 1700 strands!
Combining luxury with scientific research, Kerastase, L'Oreal's luxury brand offers a range of solution oriented products that have proven results.