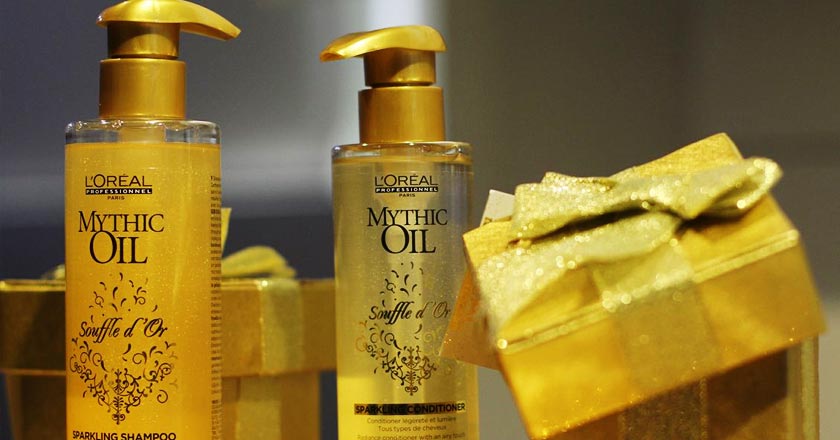 L'Oréal Professionnel, the premium hair product company has introduced a new limited edition of shampoo named Mythic Oil Soufflé d'Or through an exclusive trial service event in The Forum, Karachi on Friday, 17th January 2014.
The event was organized for salon professionals and members of the press to get a hands-on experience of the new sparkling range.
Infused with precious argan and safflower oils with golden shimmering sparkles and hints of Mandarin, Jasmine Blossom and Vanilla, Mythic Oil Soufflé d'Or is for women seeking radiant glamour and shine.
The shampoo and conditioner claims stunning radiance and lightweight nourishment treatment making them perfect for women with fine to normal hair.
Arshy Ahmad, General Manager, L'Oréal Professionnel Products Division, said on the launch of Mythic Oil Soufflé d'Or sparkling shampoo and conditioner, "Mythic Oil has been a runaway success for L'Oréal Professionnel and it is exciting to now expand this range beyond the popular, exotic hair oil. Mythic Oil Souffle d'Or sparkling shampoo and conditioner is a hair care collection specifically designed for women who want to experience some glitz and glamour. To all the ladies out there, it's time to leave your hair down! "
Mythic Oil is a complete collection of customized oil blends & oil-enriched haircare, which leaves hair looking shiny, feeling supple and smelling divine.
L'Oréal Professionnel products including Mythic Oil Soufflé d'Or are only available from L'Oréal Professionnel partner salons nation-wide. For more details, please visit: https://www.facebook.com/lorealprofessionnel.pk