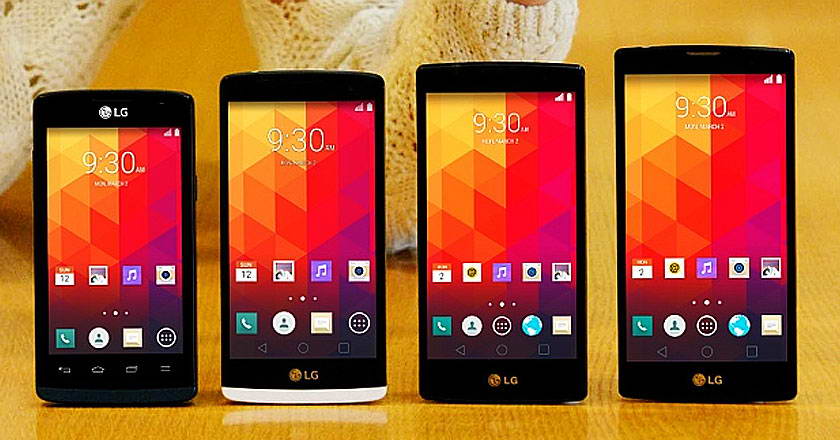 Korean electronics giant, LG has launched four new smartphones , which have been specifically designed to cater to the prevailing selfie trend, as device makers are all competing for superior camera-based features.
The four devices are named Magna, Spirit, Leon and Joy. Magna and Spirit handsets are equipped with a curved screen, whereas Leon and Joy are flat screened devices. Sizes of the screen vary from 4 inches for the Joy Model, to 5 inches on the Magna.
What is new about these smartphones is that they will also be boasting Gesture Shots and Glass View. 
The option of Gesture Shot allows users to capture selfies on the phone by using hand gestures from a distance of 1.5 metres, instead of actually pressing the screens.
Glass View is a unique and useful feature which enables the user to view the time, the messages, the missed calls, on the screen, even if the cellphone is switched off.
This announcement has been made a week prior to the Mobile World Congress 2015 taking place in Barcelona, in order to gather publicity before the grand launch of products by Samsung. However these devices will also be displayed at the MWC by LG, as well as LG's new smart watch, the LG watch Urbane.
The Head of LG's mobile division, Juno Cho stated that, "We will further strengthen LG Electronics' brand power in the budget smartphones market though product competence."
Take a look at the technical specifications of each handset listed below:
LG Magna
• Display: 5.0-inch HD (294 ppi)
• Chipset: 1.2GHz or 1.3GHz Quad-Core
• Camera: Rear 8MP or 5MP* / Front 5MP
• Memory: 8GB / 1GB
• Battery: 2,540mAh (removable)
• OS: Android 5.0 Lollipop
• Network: LTE Cat. 4 / HSPA+ 21Mbps
• Size: 139.7 x 69.9 x 10.2mm
LG Spirit
• Display: 4.7-inch HD (312 ppi)
• Chipset: 1.2GHz or 1.3GHz Quad-Core
• Camera: 8MP or 5MP* / 1MP
• Memory: 8GB / 1GB
• Battery: 2,100mAh
• OS: Android 5.0 Lollipop
• Network: LTE Cat. 4 / HSPA+ 21Mbps
• Size: 133.3 x 66.1 x 9.9mm
LG Leon
• Display: 4.5-inch FWVGA (220 ppi)
• Chipset: 1.2GHz or 1.3GHz Quad-Core
• Camera: Rear 8MP or 5MP* / Front VGA
• Memory: 8GB / 1GB
• Battery: 1,900mAh (removable)
• OS: Android 5.0 Lollipop
• Network: LTE Cat. 4 / HSPA+ 21Mbps
• Size: 129.9 x 64.9 x 10.9mm
LG Joy
• Display: 4.0-inch WVGA (233 ppi)
• Chipset: 1.2GHz Quad-Core /1.2GHz Dual-Core
• Camera: 5MP / VGA
• Memory: 8GB or 4GB*/1GB or 512MB
• OS: Android 5.0 Lollipop /Android 4.4 KitKat
• Battery: 1,900mAh
• Network: LTE Cat. 4 / HSPA+ 21Mbps
• Size: 122.7 x 64.0 x 11.9mm