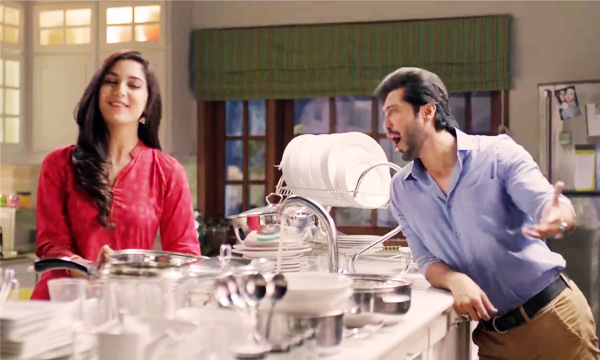 After giving stellar performances in various commercials like Qmobile, Service Shoes and Tarang, Fahad Mustafa rocks it yet again in the latest Lemon Max Long Bar TVC alongside the Diyar-e- Dil Queen, Maya Ali.
Previously starring Sarmad Khoosat and Fatima effendi, the Lemon Max Long Bar TVC follows the age old tradition of a husband and wife whining about "dhairon bartan" and how the Lemon Max Long Bar comes to rescue.
Read more: Maya Ali's Photo Shoot For 'Samreen Vance House of Jewels'
Let's watch the commercial below;
[fb_embed_post href="https://www.facebook.com/513992855309961/videos/vb.513992855309961/1020595894649652/?type=2&theater/" width="550″/]
Created by Haris Qadeer and directed by Ahsan Rahim, the 45-second musical TVC revolves around a wife (the chulbuli Maya Ali) and our very own Fahad Mustafa singing "Long Drive Chal" to his wife but is hurdled by the mother-in-law, Zeba Shehnaz who demands the dishes to be washed before they leave.
Maya then uses the lemon max long bar and is done with several dishes in no time (as always). All the while, the two sing the lemon max theme song based on the cheesy, yet ever-popular Indian song 'Hooka Baar'!
Here are a few BTS Shots from the shoot. No doubt, the duo does look extraordinarily good in the commercial. Don't you think?
Read more: Fahad Mustafa to Endorse QMobile – BTS Shots
The TVC message; 'One month, one bar- Pakistan's No. 1 Dishwash Brand' is displayed really well in the TVC! Being a typical Pakistani commercial, even though the ad could be more creative, it sure is entertaining.
Read more: Fahad Mustafa's Production Debut With Pakistani Movie 'Band Toh Ab Bajay Ga'
Stay tuned to Brandsynario for more updates!