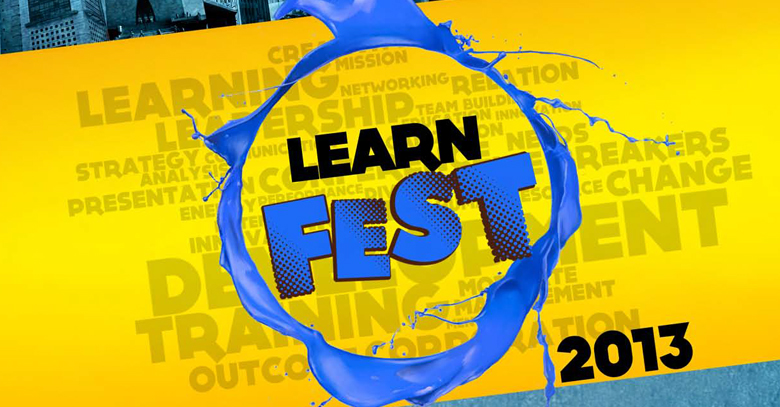 Leading training group Trainer's Resource Group (TRG) and Torque is hosting "Learn Fest 2013" currently in session at (PIM) Pakistan Institute of Management Karachi. 
The event has massive attendance, as people from all layers of professions join some of the leading minds of the country in a motivational session that encourages learning and betters human capabilities, both on personal and professional level.
Learn Fest 2013 aims to bridge the gap between the mentor and the mentee. The training is divided in five different sessions which includes 65 experts who have excelled in their respective professions and a total of 500 corporates who will speak about the shifting norms of the training industry.
The speakers include Kamran Rizvi, Ahar Iqbal mir, Leon Menezes, Jamil Janjua, Syed Nusrat, Saima Khan, Karen Allawala, Clifford Lucas, Dr. S.A. Rab, Fakhia Imran, Arsalan Larik and Shireen Naqvi.
Officially stated TRG LearnFest is a training conference for the Human Resource Development industry in Pakistan targeting the CEOs & Senior Managers, HR Heads, Talent & OD Executives, Consultants & Trainers and other Training Industry Stakeholders.
The grand event is covered by almost all of the major media houses of the country like Dawn News, The Express Tribune and CityFM89 – along with exclusive online media partners BrandSynario – and exclusive PR Agency Synchronize Media.
LearnFest is Pakistan's pioneer in organizing the biggest learning festival. This event will strengthen Training and Development industry in Pakistan.
Learn Fest spreads the realization that training and development is not an expense but an investment to instigate the value of Organizational Development and to support the HRD function of the corporate sector of Pakistan.
With expert motivational speakers and learners at their best Learnfest will provide an unparalleled consortium of HR practitioners and OD consultants, Facilitators, Coaches and Training Professionals.
TRG (The Resource Group) is a leading Society of professionals associated with training who have joined hands to share ideas and resources to increase organizational efficiency. Their mission is "Learn to Share. Share to Learn!"