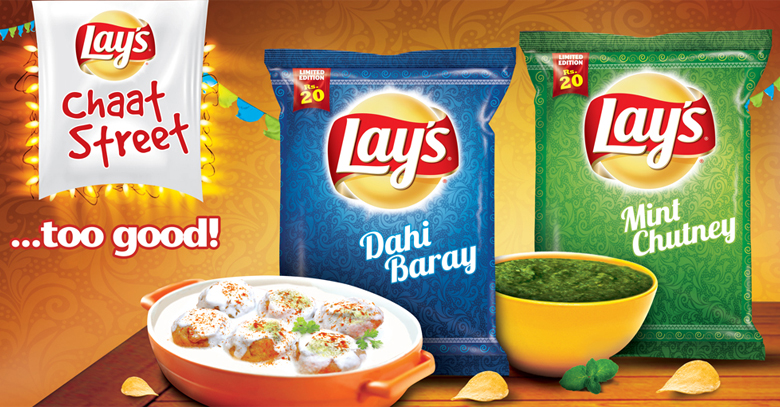 LAYS definitely knows how to stay on the top. LAYS potato chips are available in different flavors. The regular range of flavors includes Salted, French Cheese, Tomato Ketchup, Salt & Vinegar and Masala flavors.
This month LAYS came up with two new flavors under the umbrella of the sub brand Chaat Street (already launched in India with different flavors), sporting two unique, tongue tantalizing flavors "Dahi Baray" and "Mint Chutney".
Both these flavors are typically desi and are adapted from traditional dishes with the same respective names.  The launch of the new addition is timed appropriately with the upcoming Ramadan season, when consumers are already looking forward to snack items.
These can either be consumed alone or a creative cook or a chef can easily include them in a variety of dishes.
This isn't the first time LAYS has announced unique flavors. Previously, LAYS launched four flavors during the ICC Cricket World Cup 2011, each variant representing a different team, with the Pakistani team represented by Chicken Achaari flavor.
Lays has always been a proponent of "Think Global , Act Local" strategy with their products. Combining the local flavors with the worldwide snack sensation helps LAYS penetrate the Pakistani market and stay on top of the mind of the consumer.
Going through the flavors presented by LAYS, it is interesting to note that LAYS never deviates drastically from the local taste palate. They always pick up something deeply rooted in the desi taste buds, give it a modern twist and present it to the consumer.
Every LAYS product seems the result of well thought plan. The tagline "Too Good" links the local Chaat Street communication with the global positioning as "Too Good" is the LAYS global tagline.
The name "Chaat Street" also helps consumer to relate to the product, as chaat in every form has a huge significance in Pakistani culture.
The new flavors can help LAYS improve their sales and generate positive word of mouth. This is especially useful for LAYS, when in past, they have faced allegations of non-halal ingredients in their product.
The sub Brand "Chaat Street" can be used to launch other flavors with a Pakistani touch in future.