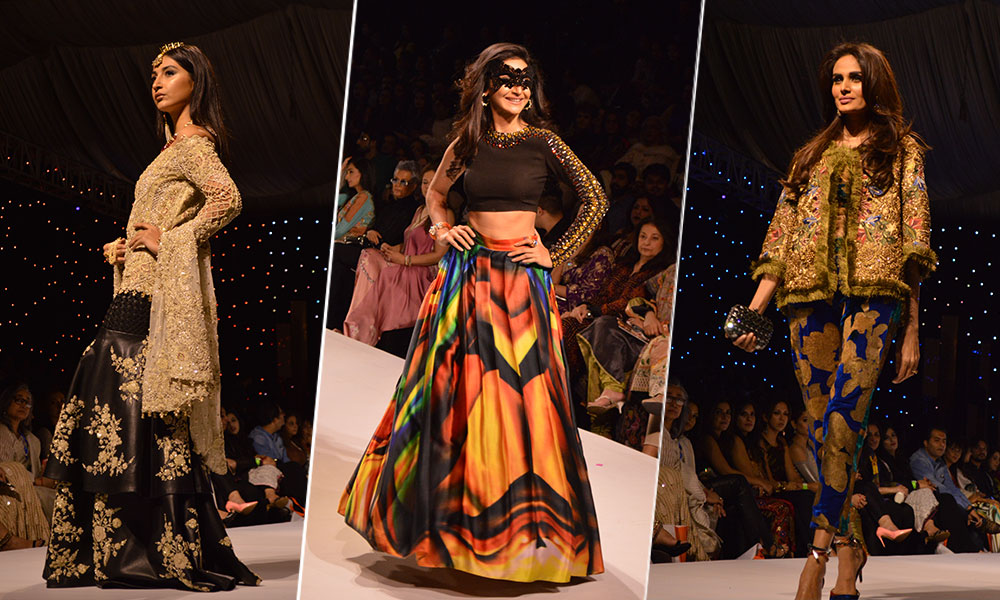 Fashion week is not only a glamorous parade where models walk down the stage and designers show their designs. Rather, it's a forum from where fashion and style mavens decipher major trends and embrace it for practical life.
The winter festive of the Fashion Pakistan Week 2015  presented many trends that are going to be a part of  everyone's wardrobe soon. We have decoded a few trends from FPW Winter Festive 2015  that are worth knowing about and investing your money in.
Colours of the Season
When we talk about trends for a particular season, the first and foremost aspect that we consider is  the colour palette. Different hues of gold, maroon and black were dominating the runways of the fashion week.
From traditional lehnga cholis in gold and maroon by Deepak Perwani to modern cocktail dresses of Maheen Karim and AFH, various shades of golden and maroon along with the most classical colour black were spotted on the ramp.
Printed Jackets & Knee Length Vest
An outerwear is quintessentially winter fashion arsenal, but always a difficult item to make a statement with. AT FPW, we got some major clues to bring life in our outerwear this winter season.
Sana Safinaz' vintage printed jackets, Sania Maskatiya's knee length, colour blocked vests and Maheen Karim's floral printed jackets with fur detailing are the perfect iterations about adding coveted vintage and cool-girl vibes to an outerwear.
Waist Cinching Belts   
Another trend that we spotted in almost all of the designers show is of cinching waist belts. This trend can turn an otherwise simple outfit in a million bucks ensemble. Add definition to your drapey outfit by wearing a waist belt.
What we love about this trend is that it has so many variations. From obi belts that wrap around your waist and give an illusion of a karate dress as seen on the models, who walked for Deepak Perwani, Maheen Karim and Elan to slim belts that designers AFH and Sana Safinaz used in their outfits to add structure in their outfits.
Long Flowy Dresses
If you admire a long dress with a lot of flares and flow in it and afraid that the trend is disappearing, you don't need to worry as the fad of long and flowy dresses is still going strong and very much there in fashion.
From Elan to Sana Safinaz to AFH, we saw a multitude of designers who brought forward their design aesthetics in long and flowy dresses.
Printed Pants
It's time to take the flamboyance of summery printed cotton pants to winter, but in a different way altogether. We have spotted a range of edgy bottoms: from embellished to embossed, but printed pants were all the rage.
From Sana Safinaz to AFH to Maheen Karim, this trendy fashion staple was seen in most of the shows.
Read More: FPW' 15: Celebrities Rock the Ramp for Famous Designers
Fur Stoles
Fur is something that screams winter and it only make sense to spot it on a fashion week that is celebrating the winter season. We saw models carrying faux-fur stoles when they walked for budding designer Hisham Malik.
Fur denotes luxury and class, so take the panache of your outfit a few notches up by flaunting a faux-fur stole.
Dangling Earrings
Whether you adore traditional jewellery or have a flair for contemporary accessories, make sure you include some dangling earrings in your baubles.
Whether it's Day 1 or Day 2 of the fashion week; dresses with traditional cuts or western ensembles; Shehla Chatoor or Sana Safinaz, we saw many designers beautifying their models with long dangling earrings.
See More: Urdu1 Hosts Star Studded Brunch for FPW'15
Comment below and let us know which is these trends you like the most and would like to embrace it off the ramp.