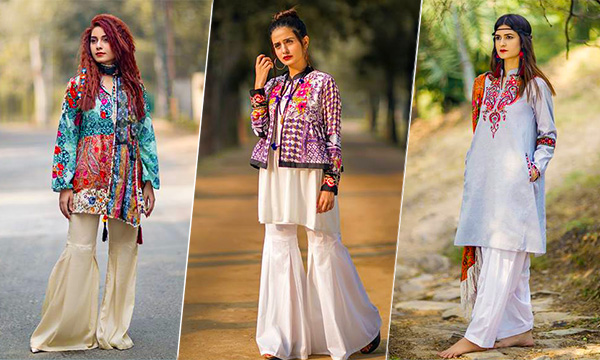 This winter Lahori ink take their customers on a trip to the lush green valley of Kashmir. Their latest collection is all inspired by the beauty of Kashmir, from its flowers, its lush green valleys to its cool flowing rivers.
This time round they not only take inspiration from their signature prints and embroideries but also cut lines pay homage to the terrain of Kashmir and  the colors used represents the different elements of kashmir. They are also launching their signature printed shawls. Grey, tangerines, black, white, and red are the key fall colors in their winter pallets making each piece vibrant and bold.
Their hand-made jewellery collection is out soon, made of beads, wires and thread making their winter key pieces sassier.
CREDIT:
Photography: Khurram Malik
Models: Kaneeze Zainab, Lara Mudhwal, Anita Waryam
Check out the catalog here: