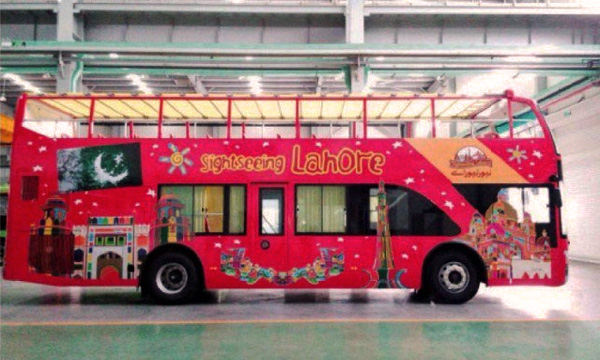 The Tourism Development Corporation of Punjab has finally launched the highly-anticipated double-decker bus service in Lahore as part of a project which aims to promote the diverse culture and heritage of the city.
Under the initiative called, "Sightseeing Lahore", two double-decker buses were introduced for guided tours across the city of Lahore.
Related: Lahore's Double-Decker Bus Debuts on The Road
The buses will be set on the roads from Saturday, 14th November 2015, according to TDCP. The main terminals for these buses will be at Gaddafi Stadium as well as at the Food Street on Lahore Fort Road. The route has been designed to cover all historical roads of the city.
Each bus has a total capacity of 48 seats on the upper deck and 18 seats on the lower deck.
These buses have been imported by the Pakistani Government from China at the price of $ $188,000.
Read More: Double-Decker Bus Debuts in Lahore, Pakistan